Four new five-stars join the 2019 Rivals100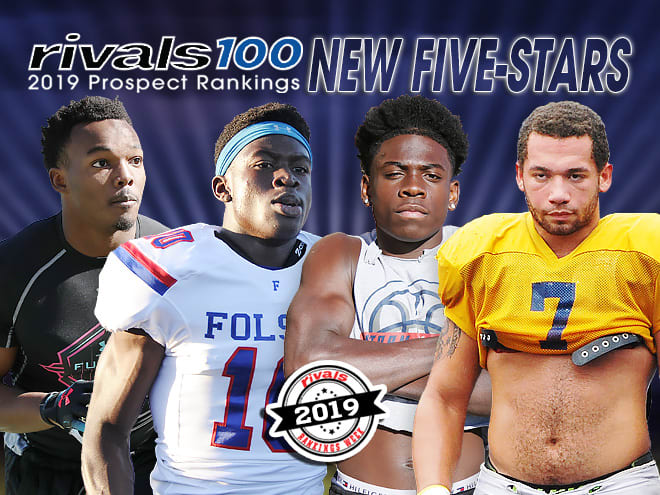 RIVALS RANKINGS WEEK: Top 10 for 2019 class revealed
The latest Rivals100 for the 2019 class has been released with big changes up and down the list as well as five new five-star prospects. Here's a breakdown of some of the big moves at the top as well as why the new five-stars were minted.
This is our second-to-last release for the 2019 cycle and cornerback Derek Stingley Jr. remains No. 1 in the country. It wasn't much of a debate actually as Stingley Jr. is so rare as a corner prospect. However, that doesn't mean he isn't being pushed by others. The LSU commitment is followed by running back Trey Sanders who moved up four spots to No. 2 in the country. Sanders has the rare combination of size and speed and is pushing to be the next running back to finish at No. 1 after Najee Harris did it in the 2017 cycle. Oklahoma wide receiver commitment Theo Wease and fellow wide receiver Jadon Haselwood remain in range as well at No. 3 and No. 4 respectively, while Georgia defensive end commitment Nolan Smith jumped five spots to No. 5 and is making a case of his own.
Offensive tackle Darnell Wright checks in at No. 6 followed by California athlete Bru McCoy and new five-star Andrew Booth (more below), a Clemson commitment. Auburn wide receiver pledge George Pickens checks in at No. 9 and defensive end Kayvon Thibodeaux rounds out the top 10.
Other notable moves in the top 25 include offensive tackle Evan Neal moving up 18 spots to No. 11, South Carolina Gamecocks commitment Zacch Pickens moving up five spots to No. 15 and Oklahoma wide receiver commitment Trejan Bridges moving up eight spots to No. 17. Defensive tackle Ishmael Sopsher fell 10 spots to No. 18 overall while LSU offensive line commitment Kardell Thomas fell 14 spots to No. 25 overall. New five-stars Nakobe Dean, Joseph Ngata (Clemson commitment) and Antonio Alfano (Alabama commitment) check in at No. 19, 21 and 22 overall respectively.
Former five-stars Quarvaris Crouch, Wayna Morris, Owen Pappoe and Chris Hinton dropped to four star status and we have more on them below. Our regional analysts break down the new five-stars and those that lost their fifth star….
NEW FIVE-STARS
"Booth is a lockdown corner. He is an elite athlete with length, ball skills and quickness. He has continued to develop as a corner the last couple of years, playing himself into one of the best in the country. Booth is how you would draw up an elite prospect at his position. He not only looks the part, but plays it." – Chad Simmons, Rivals.com Southeast Recruiting Analyst

"Dean checks almost every box when dissecting an elite linebacker. The height and length are minor concerns, but those are the only real questions about his game and his projection. He is a very instinctive linebacker who can play in space, who can rush the passer and who fill the holes against the run. Dean is a linebacker who can stay on the field, and be effective all three downs against today's college football offenses. Dean is looking at Alabama, Georgia, Auburn, LSU, Texas A&M and others." -- Simmons

"I had not seen much of Ngata in person before this season but after I did during a game in September, it was clear he was not only one of the best players in California but one of the top receivers nationally. I've said it before and I'll say it again - Ngata reminds me physically of Tee Higgins. He's long, lean, athletic and a matchup nightmare on the outside. When I saw him, the Clemson commit showed off great athleticism, awesome hands and he can stretch the field or take a short pass and make people miss as he gains yards down the field. There is no reason to believe that Ngata won't be one of the next superstar receivers in Clemson's offense." – Adam Gorney, Rivals.com National Recruiting Analyst
"Alfano has taken his game to the next level. The Alabama commit has an exceptional speed and strength combination for a defensive lineman and he has shown enough consistency over the last year for us to have grown more confident in his long-term potential. His performance at the All-American Bowl in January could tell us a lot about the accuracy of this ranking." -- Adam Friedman, Rivals.com Mid-Atlantic Recruiting Analyst

LOST FIFTH STAR
"We've been huge proponents of Crouch over the last few years and are very high on his abilities. The biggest marks with him have to do with how successful he could be as a linebacker, if he does end up on the defensive side of the ball at the next level, and if he can stay healthy. Crouch, who has a top three of Clemson, Michigan and Tennessee, has played fewer than two games this season but intends to play in the All-American Bowl in January. " – Friedman
"With Morris, it has always been about his upside. He is athletic and nimble on his feet for an offensive tackle his size. There is a lot to like about the Tennessee commitment, but when breaking his game down this season, the consistency is the biggest concern. He just didn't match up consistently with others that are ranked this high. On the biggest stages, against tough completion, he had his struggles. He is one we will watch closely Under Armor All-America week in Orlando. He definitely could earn that star back. He just needs to have a strong, consistent week against that competition." -- Simmons


"Pappoe is an elite athlete. He has made a lot of plays, but when evaluating him this senior season, there are some questions about his projection down the road. Where will he fit in? Is he is a big safety that can play in the box? Is he an every down linebacker? That is a big question for the Auburn commitment." -- Simmons


"Hinton has developed into a strong defensive lineman, and we expect him to make an early impact at Michigan, but he has not quite played to the level of a five-star. There has been some talk about him actually having a higher ceiling on the offensive line. He is a consistent player on the defensive line, and he is strong against the run, but looking ahead, down the road at the first-round type talent in the NFL Draft, he did not quite meet that criteria." -- Simmons