Four lead for Blacklock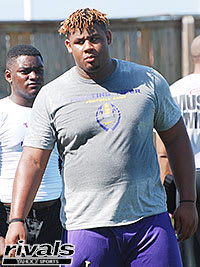 "I have a cousin that coaches there, so I got to know all the coaches there before I even started my recruitment," Blacklock said of Houston.
"TCU is a great school. I've known the coaches since I was as a sophomore."
"Alabama is a great school. I talk to coach Bo whenever I went down there, we had a lot of fun together."
"Texas A&M, great environment and coaching staff. I always have a blast when I go down there."
He has already taken an official visit to Texas A&M (Dec. 11), and he will visit Alabama (Jan. 15) and TCU (Jan. 22). He also knows what he is looking for in a future college home.
"The environment, coaching staff, do I fit in and is it a great fit for me," Blacklock said. "I don't want to go to the school just for the hype."
He continues to look at his options, but he knows he is quickly closing in on a college decision.
"It's a long journey, but I pretty much know where I think I might go," Blacklock said. "I'm still trying to make sure it's the right decision."