Former five-star recruits who might not get drafted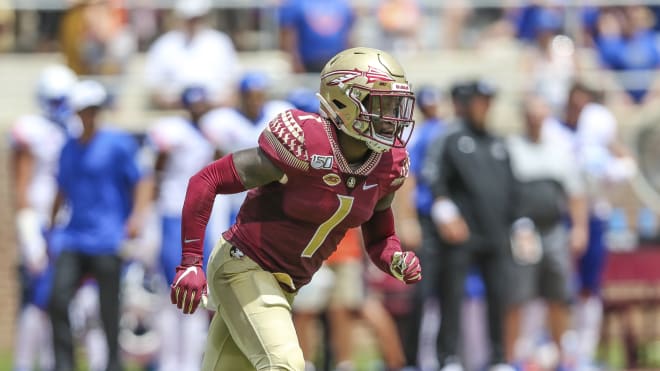 *****
Overview: Houston finished with 271 tackles during his career at USC, including 104 this past season to lead the Trojans in that category. However, Houston was not invited to the NFL Scouting Combine, as only offensive lineman Austin Jackson and receiver Michael Pittman headed to Indianapolis. Rated as the second-best outside linebacker in the 2015 class, only Texas' Malik Jefferson (now with the Los Angeles Chargers) was ranked higher. USC beat out Arizona State, Oklahoma, Oregon, Miami and others for Houston's services.
Farrell's take: It wasn't a great career for Houston, but it wasn't bad either, and with more than 100 tackles this past season I'm surprised he wasn't invited to the combine. Houston had the frame and explosiveness to be a star coming out of high school and he was extremely athletic, so it's a surprise he may slip to free agent status.
*****
Overview: A few weeks before signing day, Jones and four-star quarterback Dwayne Haskins flipped their commitments from Maryland to Ohio State. It worked out for Haskins, as he was a first-round draft selection, but Jones never caught on in Columbus and then transferred to Maryland, where he had one great season. This past year, Jones finished with 73 tackles, including 14.5 for loss and seven sacks but he was not one of the three Maryland players invited to the combine. Ranked as the sixth-best outside linebacker in the 2016 class, he was one of seven five-stars at that position alone that recruiting cycle.
Farrell's take: Jones overall body of work isn't great, but he did rebound well when he transferred to Maryland and made a lot of plays in the backfield. An invite to the combine would have helped him a lot, and we'll see if he sneaks into the draft or not.
*****
Overview: Lucier-South was compared to Anthony Barr in high school and he was exactly what NFL teams are looking for: Edge rushers who can get to the quarterback, but who can also drop in space and defend the pass. His length and athleticism always stood out, and his five-star ranking was based largely on potential. It was never realized. Late in his career, Lucier-South missed time because of academics, questioning his level of seriousness at UCLA. When he was on the field, Lucier-South was productive with 99 tackles (17 for loss) and four sacks in his sophomore and junior seasons. But he was often sidelined and never really became a national name. He was the top-rated weak-side defensive end in the 2015 class.
Farrell's take: Lucier-South had a lot of talent and was that perfect hybrid guy, but he lacked the hunger to be great and never reached his great potential. He flashed in moments but overall his career was a disappointment, and that's surprising because he was a lot like Kayvon Thibodeaux before Thibodeaux came on the scene. But while Thibodeaux is off to a dominating start in the Pac-12, Lucier-South never made that impact.
*****
Overview: Patterson played in only 10 games over two seasons at Ole Miss as he dealt with injuries and then he transferred to Michigan to re-spark his career. Rated as the third-best prospect in the 2016 class, Patterson posted good numbers in Ann Arbor but he hardly showed elite passing ability and there's a decent possibility that he will go undrafted. He finished his college career with 8,800 passing yards with 68 touchdowns and 27 interceptions, only 52 fewer yards than Joe Burrow in two fewer games. An early Arizona pledge who then ended up at Ole Miss, only Rashan Gary and Dexter Lawrence were ranked higher than Patterson in the 2016 class.
Farrell's take: Patterson had everything you wanted in a quarterback coming out of high school. He was mobile, his arm strength was solid and he had that moxie and confidence you want. It never really showed consistently on the field at either Ole Miss or Michigan, and that's surprising. Size was the main question about him in high school, but now there are many more questions surrounding him.
*****
Overview: Ranked as the second-best offensive tackle in the 2015 class behind Martez Ivey, Richmond started for three years at Tennessee before doing a graduate year at USC. He was not invited to the combine and the former five-star was relying greatly on a pro day and during private workouts to show off his abilities, but with the coronavirus travel ban that is not going to be possible. Originally an Ole Miss commit, Richmond flipped to Tennessee on National Signing Day. Ohio State, Alabama and others were also involved.
Farrell's take: Richmond was a massive offensive tackle who could move well and we expected big things from him. He never showed the consistency needed and he lacked great concentration at times. We figured at the very least he could be an elite guard at the college or NFL level, but it's doubtful he gets drafted now.
*****
Overview: Only two Florida State players - running back Cam Akers and defensive back Stanford Samuels - were invited to the combine, and without pro days or workouts possible Taylor could have a tough time getting drafted. The top-rated cornerback and No. 10 prospect overall in the 2016 class, Taylor finished with 90 tackles and four interceptions over 35 games in his four-year career. Virginia was the main contender in Taylor's recruitment, but after a visit to Tallahassee, the five-star decided to pick the Seminoles in the spring before his senior season.
Farrell's take: Taylor had to answer questions about his size out of high school, but no one questioned his coverage skills or speed. He had a solid career at FSU and played cornerback and safety, but at the NFL level he's not as coveted and could slide out of the draft.