Five takeaways from SEC Media Days
1. Tennessee's quarterback competition will go into camp
It was highly unlikely that Butch Jones was going to come into his media session on Monday and name which quarterback had the edge in the battle to replace Josh Dobbs. But after fielding a few questions about the battle between redshirt sophomore Quinton Dormandy and redshirt freshman Jarrett Guarantano, Jones said that it's possible he sees a scenario in which both players see the field.
"I think playing time is earned, so if both players earn their right to play, we'll play both quarterbacks," Jones said. "I've been in systems where we've been able to do that, and really Quinten's and Jarrett's skill sets are very similar to each other."
Jones said replacing the void left by Dobbs will be tough, both on the field and from a leadership perspective, but he's confident in the two quarterbacks. As far as a timeline on when the battle will end, Jones was mum about that as well.
"We will not name a starting quarterback until the time is right," he said. "I can't tell you where that is. That will be decided obviously on the field when we start training camp."

2. Orgeron dodges satellite camp talk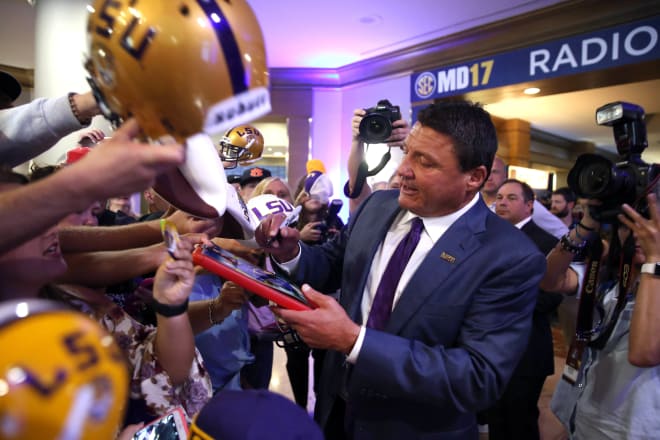 LSU took some heat earlier this summer when alleged pressure from the Tigers led to several satellite camps involving the University of Texas not going on as scheduled. While there was no proof that the Tigers' influence led to the cancellations, coaches involved made it clear that something wasn't quite right.
On Monday, LSU coach Ed Orgeron was asked a question about the camps in question and did a pretty nice job of dancing his way around it, saying that teams are welcome to come into the state during the spring evaluation period, just as the Tigers recruit other states during the same window.
The one telling comment in Orgeron's answer was that he's not in favor of any satellite camps, despite his staff's participation in them earlier this summer.
"Now, as far as satellite camps, am I a big fan of satellite camps? No," he said. "Do I wish we would go back to only having satellite camps on our campus? Yes, I do, but that's not my decision."
The debate over satellite camps was last year's hot button issue at SEC Media Days but it's clear the turf war in Louisiana is just getting started.

3. LSU is going to play a lot of freshman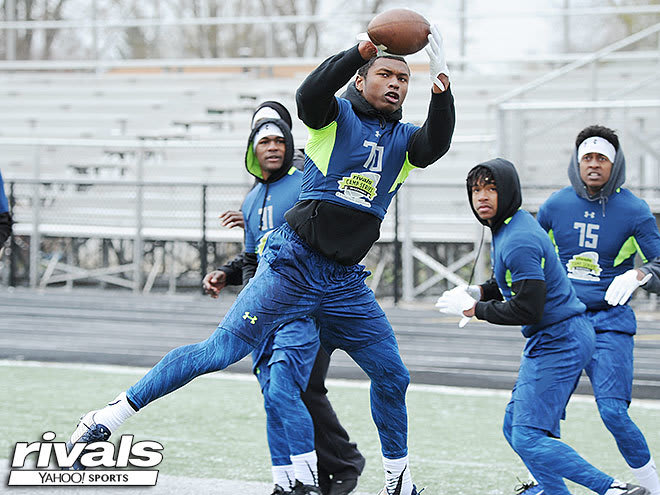 While Orgeron didn't want to talk much about battling Texas on the recruiting trail, he made it clear he's very happy with the haul of freshmen his staff brought in earlier this year. During his opening remarks Orgeron singled out several freshman players he expects to contribute this fall, most of them on defense.
Specifically he mentioned freshman linebackers Jacob Phillips and Patrick Queen as well as defensive backs Jacoby Stevens and Grant Delpit and defensive lineman Tyler Shelvin. All five of the players Orgeron singled out were ranked in the Rivals250, with Phillips, Stevens and Shelvin all being ranked as five-stars.
In addition to going out of his way to point out how the freshmen were developing, Orgeron also mentioned how highly ranked each player was in high school. A known terror on the recruiting trail, Orgeron is likely just getting started when it comes to loaded up on elite talent and by showing that players can and will see the field early will only help his efforts.

4. Bret Beilema is a father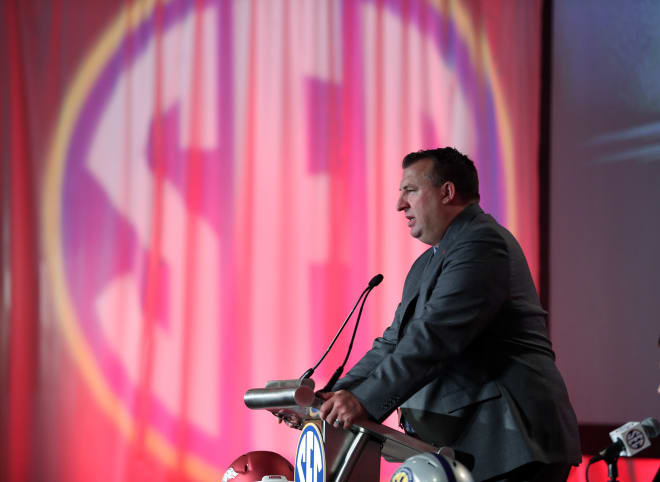 In a day where no major news cropped up from the media sessions, the recent birth of Bret Bielema's first child was something that was mentioned several times. In addition to SEC commissioner Greg Sankey telling a story about how Bielema butt-dialed him shortly, Jones also congratulated the Arkansas coach on his new fatherhood. The gathered media even found a way to put a football spin on it, asking if becoming a dad will change his approach in recruiting. Bielema's response garnered one of the biggest laughs of the day.
"I'm 48 hours into this baby," he said. "I can't say I'm well versed. I think it changes your perspective. I knew it always would. If my girl ends up playing football, we probably got a lot of problems. I'll encourage her to do whatever, but playing football ain't one of them."
As usual Bielema's session was one of the most refreshing and even while it's not Earth-shattering news, it's nice to see one of the coaches break from the usual clichés. Prospects often talk about how they like his approach and his personality shines through at events such as these.

5. SEC Media Days is a mad house
The SEC slogan is "It Just Means More" and those words were prominently displayed in several locations at the Wynfrey Hotel, the host venue of the event. As usual the event is loaded with media, with dozens of reporters battling to get questions in to the players and reporters in attendance. Queries from the gathered media ranged from those about on-field schemes to pop culture questions like "Do you watch Game of Thrones?"
Football pundits often say the SEC is the closest thing to the NFL when it comes to on-field talent and it's clear that SEC Media Days are the closest college football has to Super Bowl Media Day. The fever pitch will only grow as the week moves along, setting the stage for the run up to the start of the season.