Five storylines to follow on National Signing Day
1. State of Alabama powers looking to close strong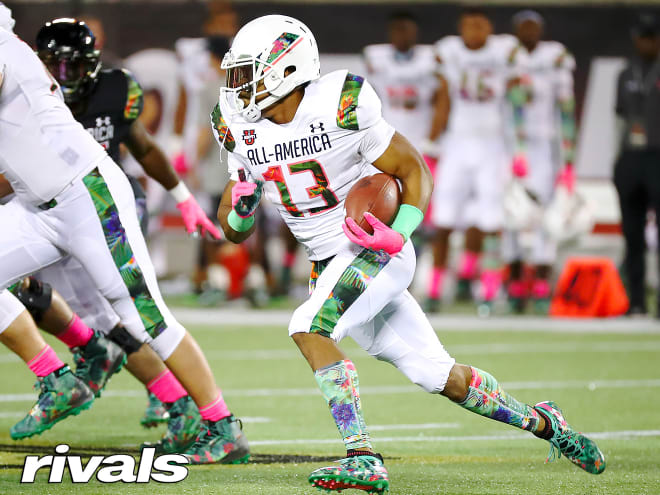 The major powers in the state of Alabama are headed for an exciting National Signing Day. There are a lot of players involved with the Crimson Tide but first they need to focus on keeping Keilan Robinson, Khris Bogle, Christian Williams and Byron Young in the fold.
On the defensive side of the ball, Alabama is looking at Rivals100 defensive tackle Ishmael Sopsher, Rivals100 linebacker Henry To'oto'o, four-star defensive tackle Jaquaze Sorrells and four-star Florida State defensive end commit Quashon Fuller.
Offensively, Alabama fans need to keep an eye on Rivals100 running back Jerrion Ealy, four-star offensive lineman Javonne Shepherd and three-star tight end Brett Seither. Ealy, Sorrells and Fuller took official visits to Alabama this past weekend but all of the others players listed have already taken official visits to Tuscaloosa.
On the other side of the state, Auburn is looking to expand its recruiting class by as many as nine. The Tigers signed 16 players in December but highly-ranked prospects such as Rivals100 running back Mark-Antony Richards, Rivals100 defensive lineman Charles Moore and three-stars Ira Henry, Kamaar Bell, Octavius Brothers and Ledarrius Cox could be picking Auburn on Wednesday.
Don't forget that Auburn also holds verbal commitments from five-star wide receiver George Pickens, Rivals250 defensive back Jay Jay Wilson and two-star linebacker Kameron Brown.


*****
2. Two major recruits may not sign on Wednesday
Speaking of Pickens and Moore, neither are absolute slam dunks for Auburn. There is a lot of competition for both and there is a chance neither signs on Wednesday. Pickens is one prospect that has taken a look at a lot of schools over the last month or so. Tennessee and Georgia have been involved with him but a good enough score on the SAT or ACT may prevent him from signing this week. Look for some type of announcement from Pickens on Wednesday.
Moore's situation is pretty cut and dry. The former Mississippi State commit is having a really hard time making up his mind. Auburn is the favorite for him but he took an official visit to LSU over the weekend with a quick stop at Mississippi State on Sunday before the dead period kicked in. Waiting to sign is a distinct possibility for Moore.
*****
3. Bayou Bengals tracking down their last few recruits
Ed Orgeron and his staff have put together an impressive recruiting class so far and they are hoping to close out this cycle with a bang. Without a doubt, LSU's biggest priority has been Rivals100 defensive tackle Ishmael Sopsher. He took his official visit to LSU this past weekend but he was on his official visit to Alabama the previous weekend. It seems like his recruitment is tied between those two at this point.
Rivals250 wide receiver Devonta Lee also took his official visit to LSU last weekend and the Tigers are in great position to reel in his commitment on Wednesday. Keep an eye on Alabama commits Christian Williams and Byron Young but LSU has a better chance with Williams.

*****
4. Plenty of activity left in Florida
Florida, Florida State and Miami all have a lot to hope for on Wednesday but the 'Noles have the most to watch for this week. Their biggest priorities are making sure they hold onto Rivals100 safety Nick Cross (see below) and four-star defensive lineman Quashon Fuller. After them, Florida State is in on a lot of prospects that will make their decisions in the next two days. Four-star quarterback Lance Legendre is a huge target and a major need given the latest news about Deondre Francois. Keep an eye on offensive linemen Kamaar Bell and Darius Washington as well as athlete Asante Brown.
Signing day figures to be quieter for Florida and Miami. The Gators are pushing for a few players but the main two are Rivals100 defensive back Kaiir Elam and Rivals100 Mark-Antony Richards. Miami's biggest target is Rivals100 Alabama defensive line commit Khris Bogle. He just took his second official visit to Coral Gables this past weekend and the Canes feel good about their chances.


*****
5. What will Rivals100 FSU DB commit Nick Cross do?
Nick Cross has been committed to Florida State for a long time but its hold on him has weakened significantly. The Maryland native took unofficial visits to Maryland and Georgia over the last two weeks and took an official visit to Penn State this past weekend. The Nittany Lions have the momentum, especially with Cross' parents, but Cross has always wanted to play for Florida State. This announcement will draw a lot of eyeballs on Wednesday.