Five-Star Tracker: A look at the last five years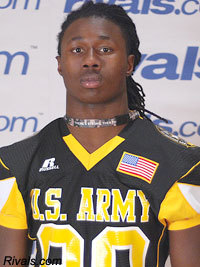 Wondering which five-star recruits from the Class of 2012 will have the biggest impact next season?
Take a look at the skill-position players on offense.
With the 2011 season over, we decided to measure the progress of all the five-star prospects from the past four recruiting classes. The quarterbacks, running backs and wide receivers generally were the biggest contributors as freshmen.
Watkins, the Yahoo! Sports/Rivals.com freshman of the year, helped Clemson win the ACC title and became just the third player in NCAA history to earn first-team All-America honors from The Associated Press as a true freshman.
Watkins and Thomas were merely following the examples of previous five-star prospects at the skill positions.
Here's a rundown of how each of the five-star prospects from the past five signing classes has fared. Each player's name is linked to his Rivals.com prospect profile which includes high school video.
Recruiting class of 2011 five-star tracker
Recruiting class of 2010 five-star tracker
Recruiting class of 2009 five-star tracker
Recruiting class of 2008 five-star tracker
Recruiting class of 2007 five-star tracker
[rl]