Five-star talks ND visit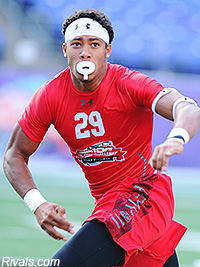 Caleb Kelly
has taken a lot of official and unofficial visits and been to many campuses so he can tell when something is unique.
Notre Dame definitely had those qualities.
The five-star linebacker from Fresno (Calif.) Clovis West was in South Bend this weekend, got a chance to spend a good amount of time seeing what the Irish have to offer and they've definitely moved into a strong position in his recruitment.
"The academics are different," Kelly said. "It's more important, you can tell. The guys and everything they do is a lot different than some other places, too.
"The facilities are pretty normal compared to other places. I really liked the strength and conditioning coaches. It looked like the guys had a lot of fun when I got to hang out with them."
Kelly, who spent a good deal of time with freshman linebacker Asmar Bilal, said he had opportunities to sit down with the coaching staff and get a real sense of how they'd use him in the defense.
The five-star also said he felt the history and tradition at Notre Dame just by walking around the campus and hearing stories of what it's like to attend school there.
"You can definitely feel when you're there, everybody is talking about the traditions that are there," Kelly said. "If I walked here or if I touched this I wouldn't graduate so there is a lot of history and tradition there. It was pretty funny and pretty cool to hear about all the traditions.
"Of course (coach Brian Kelly) said there is a Kelly connection.
"He said I'm just different because of my length and what I could bring to the defense. He said I would fit right in with the team there and that he could see that with the players there. He talked about the team and the athletics and the all-around package."
As for his recruitment, Kelly said he has not talked with Michigan since his visit, which he thought was strange so he hoped to get in communication with them soon. Oklahoma remains a serious contender and he said the Sooners have not stopped their aggressive approach to recruiting him.