Five-star Scottie Lewis taking his time with recruiting process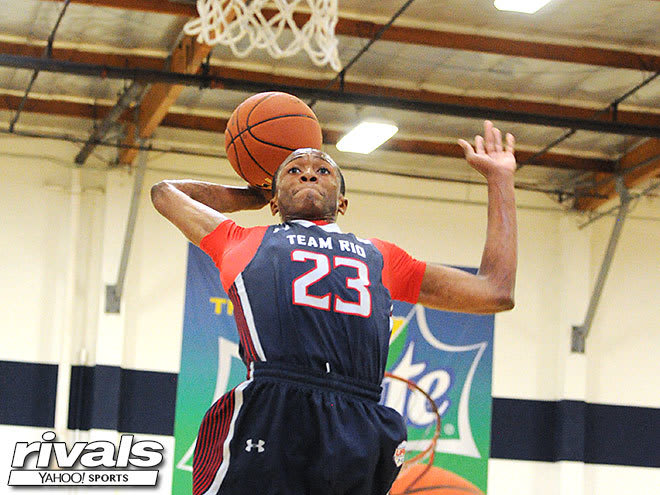 COLORADO SPRINGS, Colo. – Five-star guard Scottie Lewis has been a well-known name nationally since stepping foot onto a high school playing floor three years ago. Lewis was invited to try out for the under-18 USA Basketball team and said heading into the event, he felt he needed to reshape his game after struggling a bit during the first two esssions on the Under Armour circuit.

"I think that I have just been so worried about making the right play instead of just playing basketball and being myself," he said. "We had this long break leading into USA Basketball so myself, Bryan Antoine, Mike Rice and the entire coaching staff just took me to the side and worked on every single part of my game and went over game film just so that they could show me my mistakes and try to help me get back to the player that I was."
College interest has not waned whatsoever as Villanova, Duke, Florida, St. John's and a handful of others have kept a watchful eye.
IN HIS OWN WORDS
Villanova: "That is family, obviously. They are right in my backyard and having coach George (Halcovage) always calling and texting me, and coach Jay (Wright) always keeping in contact. They just got Justin Moore and another big guy, and I heard a couple of rumors of another few guys going over there, and if I was to go there, that class would be something to look at. If we stayed one or two years and kind of built that program back to where it was since they are obviously losing the three guys, next year they will still be tough and the next year even tougher, so that would be something that I would definitely like to be a part of."
St. John's: "That is where I am from. I am from New York and I grew up there and my dad, whenever he first got to meet coach (Chris) Mullin and the coaching staff, he was in love with them, and my mom loves them as well. She hasn't thought a lot about me staying home as far as going to New York, but after sitting down and having those home visits, she would love the fact of me staying at home and me playing at the Garden."
Duke: "That is big time right there. Me and Bryan (Antoine) always talk about schools that we could go to together and Duke is one of those schools. Their pitch and coaching staff, along with their culture there, one of the biggest things for me is what I could bring to the table as a freshman and doing something different that no other Duke player has done before, because obviously I am about creating something new as far as history goes."
Florida: "They have been kind of helping me out as far as my head situation and getting me to have fun and just playing. They are always giving me pointers. They were in a conversation with me along with my coaches about this video that came out about me, and coach (Mike) White actually sent it to me about some of the pointers on some of the things that I need to work on. I like them so much that even if I were to not go there, I know I will always have them just as mentors and people that just genuinely want to help me out."
Kentucky: "That is Kentucky. If I choose to be one of those players that is a one-and-done, basketball only type of guy, Kentucky is definitely the school that I will be headed to. All of the schools we have talked about, they will hopefully be in that list of schools that I get down to once I make a cut list, but they are always texting me and giving me pointers about what I can do better."
Stanford: "Bryce (Wills) is always chatting in my ear about them. A couple of my teammates are telling me about them, too. Hopefully we are going to take an unofficial visit there sometime this summer."
Notre Dame: "Going to an Under Armour school would be cool for me and I hopefully going to take a visit there sometime soon. It is nice having Coach (Mike) Brey here, as well, at the camp to learn from."
WHAT'S NEXT
Lewis will complete his senior summer next month on the Under Armour circuit with the Team Rio 17-under team.
While there has been talk about Lewis playing in college alongside best friend Antoine, a five-star guard who is already down to a final five, he remains a step or two behind his high school friend and travel teammate in his recruitment.
"I am hoping that we are going to take a couple unofficial visits once I get home; we aren't sure where they are going to be to," Lewis said. "There is a lot of things that come into play for me with the person that I am and the basketball player that I am. There are a lot of categories and things that go into my college decision, so I am just kind of waiting it out and seeing what school will be the best fit for me. I am taking a bit of a longer time because I am not totally sure what I want in regards to the area, what I want out of basketball and really, what I want to do with my life."
RIVALS' REACTION
Lewis was ranked as a five-star prospect in the initial ranking release of his 2019 class two years ago and has remained in that elite category ever since.
Known for his quick twitch abilities, defensive versatility and athleticism, questions remain on whether Lewis will continue to team up with Antoine in college. Look for Villanova, Kentucky, Florida, Duke and St. John's to be among the group to make the final cut for the five-star wing in the coming weeks.