Five-star lineman takes in FSU, talks upcoming LSU trip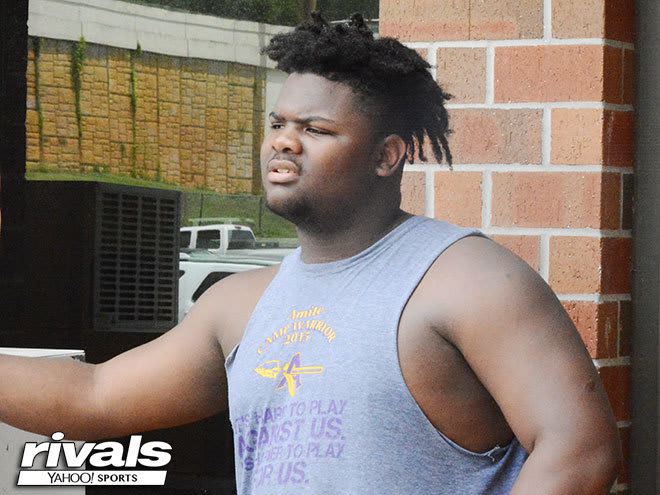 TALLAHASSEE, Fla. -- Ishmael Sopsher may be an underclassman, but he's not new to the recruiting process by any stretch. The five-star defensive tackle showed up at Florida State with a long list of offers from a litany of major programs.
This setting is standard at this juncture. He breezes through interviews rather effortlessly and says as little as possible in the process. Favorites? He names none. And he's certainly not naming a leader. Instead, he'd rather talk about his time on FSU's campus.
His takeaways are simple.
"It's a good school," Sopsher said. "They have good coaching. I like the city and I like the facilities."
According to Sopsher, who has now visited Florida State twice, the relationship between him and the Seminoles is still in its infancy. That fact is never more apparent than when he's asked who serves as his main recruiting contact at the school.
"Right now? Nobody," he said. "But we're starting to talk and building a relationship now."
Florida State is certainly a player in his recruitment and may become a larger one going forward. Where he feels most comfortable for now, however, is LSU, which he's set to visit on Saturday.
"Coach [Dennis] Johnson is a good recruiter and recruits hard. I call him often – like once a week," Sopsher said. "We talk about football and talk about life."
The overall theme of LSU's pitch is simple. It's also familiar. There isn't much nuance in play.
"LSU is just telling me they are the home schools and making me a priority," Sopsher said. "They want me there. They think they can put me to good use."
RIVALS REACTION: Alabama is among the leaders to land Sopsher but LSU can't be counted out whatsoever. His second trip to FSU signals that Florida State is making a move, but the Seminoles are still, at best, running in third place.