Five-Star Checkup: Linebackers from 2016, 2017 classes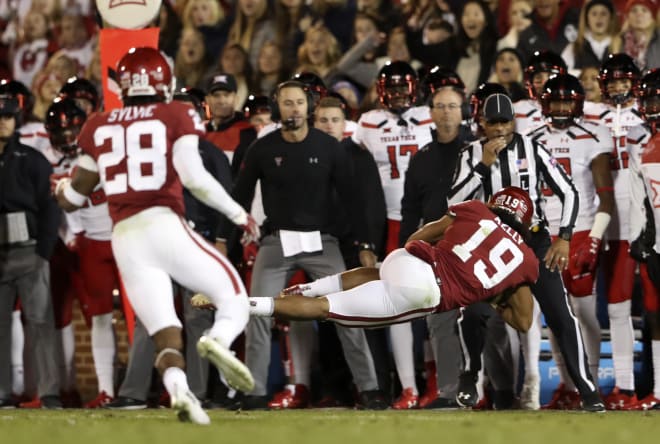 Every Monday during fall we check in on five five-star prospects to see how they're performing and if they are living up to the lofty billing that led them to be ranked at the top of the Rivals100. This week we focus on five former five-star linebackers from the 2016 and 2017 classes and identify those off to the best starts in their young careers.
RELATED: 2016 Rivals100 | 2017 Rivals100 | Five-Star Checkup: Defensive linemen
As a recruit: Kelly was pursued by schools from all over the country and he took a nationwide approach when it came to evaluating his options. During his senior season he took official visits to Michigan, Oregon, Notre Dame and Oklahoma, and made all the schools sweat it out until National Signing Day, when he announced his commitment to the Sooners.

What he did this week: One of the biggest recruiting gets in recent memory, Kelly arrived in Norman with plenty of expectations. It didn't take Kelly long to work his way into the lineup and by the time 2016 was over he had started in six games and totaled 36 tackles. In 2017, Kelly picked up right where he left off, establishing himself as a starter and important part of the Sooners' defense. In Saturday's win over Kansas he recorded three tackles, including a sack. He has already exceeded his 2016 output and will continue to be an important player for the Sooners as they push toward the College Football Playoff.

As a recruit: Hayes gained acclaim as an elite prospect early in his high school career, and it led to interest from all over the country. He made an early commitment to USC and even moved to California with the intention to play his junior year of high school closer to his future school. But after a month Hayes was back in Michigan and eventually he backed off his pledge to the Trojans altogether. After official visits to Notre Dame, Ohio State and Michigan State he committed to the Irish in December 2015.

What he did this week: Hayes was converted from a linebacker to a defensive end during his freshman year, and so far the transition has gone pretty smoothly. In 2017 Hayes has established himself as one of the team's best pass rushers, and while he didn't get a chance to get after the quarterback much against run-heavy Navy, he did finish with two tackles. On the season, Hayes has 28 stops and is tied for the team lead in sacks with three. The more he learns his new position the better he is expected to get, and while it's not at linebacker Hayes thus far is validating his high school hype.
As a recruit: Moses made national headlines when he picked up his first major offers from Alabama and LSU while still in middle school. The early hype surrounding Moses sped up his recruiting process and he committed to LSU as a high school underclassman. But the more the Louisiana native experienced, the more he started to look at other options. He transferred to IMG Academy in Florida for his senior year of high school and committed to Alabama shortly after an official visit to Tuscaloosa in the fall of 2016. He took late visits to Ohio State, Miami and LSU, but elected to stick with Alabama.

What he did this week: The number of injuries at linebacker for Alabama has opened the door for Moses, and the former five-star has wasted no time living up to the hype. In Saturday's win over Mercer he led the Tide in tackles with 11, including four of them for loss, while also grabbing one interception. Moses is gradually seeing his time increase and has flashed the talent that led him to be a star on the recruiting circuit. His playing time will likely continue to fluctuate, depending on the circumstances this season, but he appears to be well on his way to living up to his ranking.

As a recruit: Phillips fielded a variety of interest from schools all over the country, and even took official visits to Oregon, Notre Dame and Alabama before announcing his commitment to Oklahoma in October of 2016. But as National Signing Day drew closer the lure of playing in the SEC continued to pull at Phillips, and eventually he flipped his commitment from the Sooners to the Tigers just a few weeks before signing day earlier this year.

What he did this week: Phillips made his return to his home state this week and had one of the best games on his young career. He finished with four total tackles, and continues to work his way into the playing rotation for the Tigers. On the season, he has 16 total tackles and figures to be a key figure in the future of LSU's defense.

As a recruit: A Maryland native who played at powerhouse Good Counsel, Jones made an early commitment to the Terrapins and seemed likely to stay close to home. But as his senior year season moved along interest from some of the nation's top programs caused him to rethink his options. After a January official visit to Ohio State he flipped to the Buckeyes, along with close friend Dwayne Haskins.

What he did this week: Jones' career has gotten off to a decent start in Columbus, as he played sparingly as a freshman and is a reserve in 2017. In Saturday's win over Illinois he had the most productive outing of his career, recording four solo tackles. Jones continues to wait his turn behind a talented group of Buckeyes linebackers, but has shown flashes of the talent that led to his ranking in his limited opportunities. On the season, he has 23 total tackles.