Five stand out early to Smith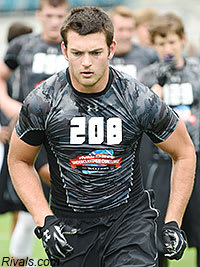 Kaden Smith
loaded up with early offers and now a few programs have started to emerge as favorites for the 2016 tight end.
"Those are the ones that are really standing out. There are a couple more schools out there that are really recruiting hard but I'm not quite sure if I'm leaning toward them right now."
The Flower Mound (Texas) Marcus standout made those comments last week at the Elite 50 Experience in Orlando and it paints a clearer picture on where his recruitment might be headed.
It sounds like at this point the Crimson Tide and Cardinal stand out the most and then off-season visits to Auburn and Georgia could re-arrange things if those trips go well.
"Alabama is a great football team, close to home and Nick Saban is just a wonderful coach at bringing you to the next level," Smith said.
"Stanford has a great campus and weather and coaches and the education is outstanding there."
Texas definitely cannot be forgotten for Smith, a 6-foot-5, 233-pound prospect who's rated as the eighth-best tight end in the 2016 class by Rivals.com.
The Flower Mound Marcus standout has already taken a trip to Austin and met with coach Charlie Strong so he's been impressed by the Longhorns early on.
"Texas uses their tight end the most out of the in-state schools I've seen," Smith said. "I went and visited Texas and we had some things in common. It was great to get to know (Strong). The way he's taking the program and his discipline I really like."