Five recruits Pruitt should call right away at Tennessee
Tennessee finalized the hiring of Alabama defensive coordinator Jeremy Pruitt as its next head coach on Thursday, bringing to end a long saga that saw the Vols' administration eye several potential candidates.
Now that the search is over and Pruitt is headed to Knoxville, it's time for him and his staff to get on the road and start recruiting. With less than two weeks until players can start signing National Letters of Intent, it's going to be a race to the finish line to try to re-build the school's class. Today we take a look at the five most important recruits for the new staff to try to retain, reel back in or add to the fold.
RELATED: Vols tab Pruitt | The Coaching Carousel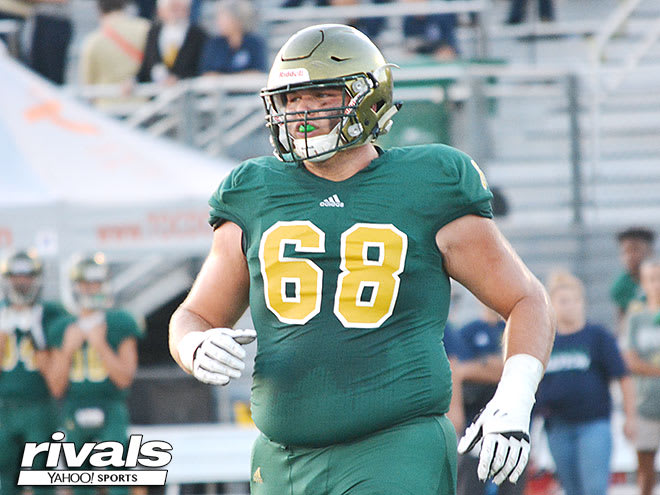 The five-star offensive tackle and Knoxville native was the first commit in the Volunteers' 2018 class but backed off his long-time commitment earlier this fall during the height of the Butch Jones drama. Mays recently released a top three that included Ohio State, Georgia and Clemson and he's already taken official visits to check out both the Buckeyes and Tigers. Mays, a Tennessee legacy, has said that he would take another look at the Vols once one their coaching situation is stabilized, but it remains to be seen if Pruitt will be the guy that is able to change Mays' mind and get him back to his hometown school. Mays is scheduled to visit Georgia next weekend so the sooner the new Vols staff can get on the phone with Mays and get him back on campus, the better.
The dynamic offensive weapon was also a long time Tennessee commit who backed off his commitment the day Jones was fired. Taylor has flirted with several schools since, including Georgia, Louisville, Wake Forest and Notre Dame. Most believe that if all things are equal Taylor would like to stay close to home and end up back on Rocky Top, but with a plan to enroll early, time is running out. If Pruitt can sell an offense that will give Taylor plenty of chances to get the ball in his hands, it could only be a matter of time before he's back in the fold. Georgia is the Vols' biggest competition here so losing Taylor would not only hurt Tennessee, it would help one of their bitter rivals.
Martinez is one of the highest-ranked remaining members of the Vols' class and has become a target of both Missouri and new Nebraska head coach Scott Frost. Obviously Pruitt is a defensive guy but surely he has a plan in place for an offensive coordinator and the sooner he shares that with Martinez the better. With a new staff in town there figures to be an open competition for playing time and Pruitt will be sure to mention that as well. Frost and Nebraska pose a major threat, but Martinez's loyalty to the Vols throughout the last few months shows how much he wants to end up on Rocky Top.
With Pruitt's background at schools like Alabama and Georgia, it shouldn't take much of a pitch to keep Emerson in the fold. Despite missing all of his senior season with an injury, Emerson's combination of size and ability is rare, which is why he was coveted by Pruitt while at Alabama. Holding onto a player like Emerson will be key as he's likely a major part of the program's future. Pruitt will be tasked on keeping the already solid commit solid and getting him to sign early with the school later this month.
Horn committed to Tennessee over the summer and despite repeated overtures from other SEC schools, stayed with the Vols until late last month. Most expected him to make a quick decision and end up somewhere like South Carolina, but he's still on the market and Pruitt's hire could be just the thing to get him to reconsider the Vols. Horn was very high on Alabama at various points during his recruitment, with Pruitt playing a big role. Now that the Vols have a defensive-minded coach will it be enough to win Horn over? Only time will tell but either way Pruitt likely won't wait long before making his pitch to Horn.