Five predictions for Rivals 3 Stripe Camp Columbus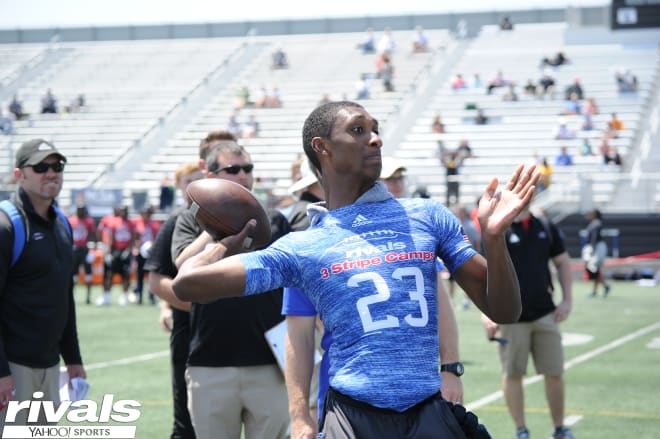 The Rivals 3 Stripe Camp presented by adidas enters the final month with a stop in Ohio' state capital. Past Rivals Camps in Ohio have seen rain and even blizzards, but Sunday's forecast looks downright balmy, with high temperatures in the 70s expected. The expectations on the field are for the region's top talent to put on a show. Here are five things we are looking for on Sunday.
RELATED: Full RCS schedule, coverage from previous camps
CLASS OF 2020 STEALS THE SCENE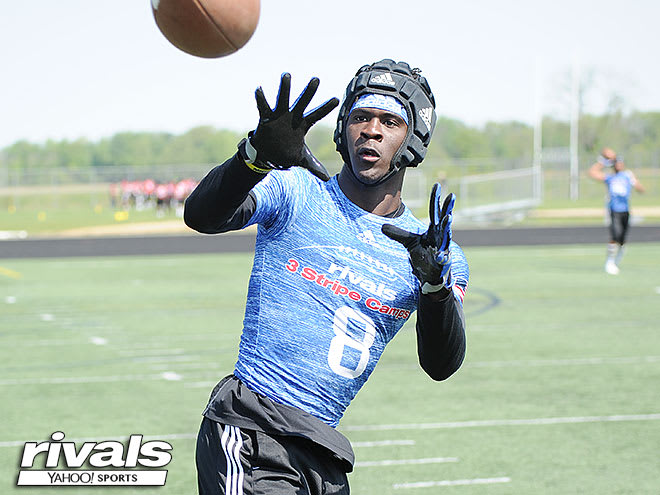 When looking at the rosters for each position group expected at this weekend's Rivals 3 Stripe Camp in Ohio, there are obvious headliners from the 2019 class at almost every one. Quarterback has the reigning MVP from last year's event in Michigan State commit Dwan Mathis, wide receiver has Rivals100 prospect David Bell, Ohio State commit four-star Doug Nester is on the offensive line, four-star defensive tackle Jowon Briggs earned an invite to the Rivals100 Five-Star Challenge last year.

But, at each of those positions there is a young, talented and hungry underclassman ready to steal the show. Several class of 2020 prospects who made the early Rivals100 are expected to compete, including wide receiver Rashawn Williams, offensive guard Justin Rogers, defensive end Darrion Henry and cornerback Enzo Jennings.
STRONG COLLECTION OF THROWERS
Last week in New Jersey, we saw what was probably the deepest group of quarterbacks at a Rivals 3 Stripe Camp this year, with four-stars like Taisun Phommachanh and Drew Pyne leading the way.

The collection of passers headed to Columbus this weekend, however, could rival that group. The headliners are a pair of four-star Big Ten commits in Mathis and Graham Mertz (Wisconsin). There are others, though, who are seasoned and should give the top two a run for top performer honors.

Three-star Sam Johnson III has been building momentum this off-season and is expected to announce his commitment shortly after the camp. Kentucky's Cameron Jones, meanwhile, was outstanding at this camp a year ago when he earned his way in via the combine. Younger prospects who will be intriguing to watch include Westerville (Ohio) Central's 2021 Judah Holtzclaw and 2022 Centerville, Ohio passer Chase Harrison.
THE NEXT MARSHON LATTIMORE COULD EMERGE
The Midwest is not recognized as a strong defensive back-producing region, but maybe it should be after putting three cornerbacks into the first round of the NFL Draft over the last two years, including the No. 4 pick in last week's draft, Denzel Ward.

The collection of defensive back talent headed to Columbus this weekend has designs on hearing the commissioner call their name from the podium in 4-5 years, and could give some foreshadowing with their play on Sunday. Safety is actually the deepest position, with four-stars Marvin Grant and Moses Douglass headlining. Keep an eye on Penn State commit Keaton Ellis and class of 2020 four-star Enzo Jennings at cornerback, though, as both should be in their element at this event.
DEZMAN COOPER IS PRIMED TO BREAK OUT
Reynoldsburg, Ohio linebacker Dezman Cooper picked up his first offer in April of 2017 from the home-state Miami Red Hawks. And then… nothing. For more than a year. Miami remains the only offer for Cooper, and it is surprising no one has followed their lead.

Cooper is an ideally-sized 6-foot-2, 220 pounds and is an above average athlete for the linebacker position. We have seen him several times since that Miami offer more than a year ago and he never fails to impress. There are others, like Kentucky quarterback Cameron Jones and River Rouge cornerback Daruan McKinney, who we expect to outplay their offer lists on Sunday, but maybe none more so than Cooper.
THE STATE OF OHIO'S SLIDE
At the start of the decade, the state of Ohio was a top five talent-producing state, behind the big three of California, Florida and Texas and challenging Georgia. But, since that time we have seen a sharp drop-off in Division I talent production from the state.

Consider that between the years of 2008-2010 Ohio had an average of 156 players sign Division I letters of intent. Over the last three classes – 2016-2018 – that number has dropped to 114, a nearly 30 percent dip.
Fellow Midwest states like Indiana and Michigan, meanwhile, have stayed steady with their talent production, so this appears to be Ohio-specific. One cause that has been suggested is the state's general hostility towards off-season football. There is no spring football in Ohio. Players from the state cannot play 7-on-7 in the spring. And, off-season camps are discouraged by many movers and shakers in the state.

Border states of Pennsylvania, Michigan and Indiana will be better represented at Sunday's event than the host state.