Five big QB questions heading into the 2019 season
RELATED: Will Lincoln Riley ever make the jump to the NFL?
Pro Football Focus is an invaluable resource to dive deeper into statistics when thinking about college football and the NFL Draft. Here is a breakdown of five quarterbacks heading into next season, what their numbers could mean down the road and the opinion of Rivals.com National Recruiting Director Mike Farrell.
Does K.J. Costello get the respect he deserves on the national level and could he become a first-round NFL Draft pick after next season?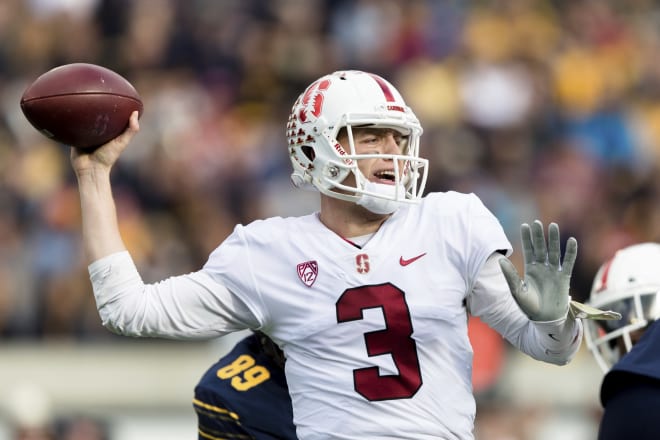 Overview: The idea that Stanford is a smash-mouth running team that hardly ever throws the ball and only pounds it between the tackles certainly did not prove true last season. Costello had 59 more pass attempts than Tua Tagovailoa and 39 more than Kyler Murray. The former four-star had 46 more passing yards than Drew Lock, 254 more than Sam Ehlinger and 266 more than Trevor Lawrence. Costello also had four more touchdown passes than Ehlinger and just as many as Oregon's Justin Herbert.
Farrell's take: Costello is a quarterback you don't hear a lot about heading into next season or when you think about the 2020 NFL Draft, but he's a talented kid. He exuded confidence as a high school prospect, made some great reads downfield and wanted to play in a pro-style offense. Being under center more often than others will help him and he's being overlooked because people think Stanford just pounds the ball. I don't see him as a first-round talent at this point, but it wouldn't surprise me if he gets some of that buzz if he has a great season. Keep an eye on him and on Stanford next season.

Can J.T. Daniels salvage his career under new coordinator Graham Harrell and a new spread attack or was he vastly overrated coming out of high school?
Overview: Ranked as the fourth-best prospect in the 2018 class and the second-best pro-style quarterback behind only Lawrence, expectations were huge for Daniels in his freshman season at USC, but things did not go so well. The former five-star graded out as the No. 54 quarterback according to Pro Football Focus last season in passing yards, completing just 59.3 percent of his passes for 2,667 yards with 14 touchdowns and 10 interceptions. Every job is now open at USC as coach Clay Helton fights for his job. One hope is that new offensive coordinator Graham Harrell will let Daniels be himself in the offense and let him fire it all over the field like he did at Santa Ana (Calif.) Mater Dei when he put up huge numbers.
Farrell's take: Daniels has a ton of talent and expectations were perhaps too high for a kid who accelerated his high school graduation so he could start college early. Keep in mind he should be a true freshman this year. What Jake Fromm did a year ago and especially what Lawrence did last year has expectations very high for Daniels. This kid showed maturity, pocket presence and threw one of the best long balls I've seen out of high school. He will develop, it will just take a little longer. I expect a much better season from him this year.

Does Sam Ehlinger have what it takes to lead Texas to the College Football Playoff?
Overview: Everyone thinks of Oklahoma as the pass-happy, spread offense in the Big 12, but it was Ehlinger who threw 499 passes last season to Murray's 435 even though Murray had vastly better numbers when it came to passing yards and touchdowns. Still, Ehlinger graded out as the No. 22 quarterback nationally in passing yards and while he had pedestrian passing numbers in the Sugar Bowl win over Georgia, he did rush for three scores in that game. Collin Johnson is coming back and the Longhorns should have other weapons in the offense as well. One stat to watch: Ehlinger was sacked 31 times last season. He needs to get rid of the ball faster or not take as many hits to stay upright - and healthy.
Farrell's take: Ehlinger is a great leader and a tough kid as he showed last season and in high school coming off injuries. He's not the most polished passer but he makes up for it with his mobility and toughness in the run game. He's been compared by some to Tim Tebow for those traits and while that is a bit of a stretch (as Tebow was a college legend) there is no doubt in my mind he has the ability and leadership skills to lead Texas to the college football playoff this season or the next. The problem? Oklahoma. The Sooners are a bit more advanced when it comes to roster talent and they will be tough to get past even without Murray. But Texas is on its way back and Ehlinger is one of the main reasons why.

Are we getting a little ahead of ourselves crowning Trevor Lawrence the best quarterback in Rivals history or is he a surefire No. 1 overall pick after two more seasons?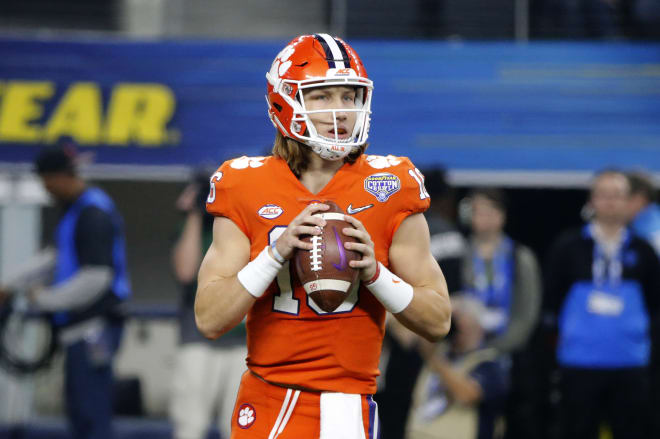 Overview: The former five-star and No. 1 overall prospect in the 2018 class led Clemson to the national championship last season - blowing out both Notre Dame and Alabama in the College Football Playoff - and that is the best measure possible when considering Lawrence's performance on the field. He was outstanding in both games throwing for three touchdowns each against the Irish and the Crimson Tide. But his passing yards for the season put him No. 23 nationally. He had as many passing attempts as West Virginia's Will Grier but threw for 591 fewer yards and seven fewer touchdowns, although he had four fewer picks as well. Doing this as a freshman on the biggest stage in college football was pretty impressive.
Farrell's take: There is no doubt that Lawrence is the best quarterback in Rivals.com history because I've seen them all and he's a level above in many categories. From his pocket feel to his downfield vision, accuracy and arm strength, he can do it all. Lawrence could sit out the next two seasons and still be the No. 1 pick in the 2021 NFL Draft, he's that special. If he doesn't win two Heismans he will at least win one, and possibly lead Clemson to another national title. There is no getting ahead of yourself with Lawrence.

Is Tua Tagovailoa being a left-handed quarterback a major concern for you and will it hinder his ability to be the No. 1 quarterback taken in the draft after next season or does his talent outweigh that consideration?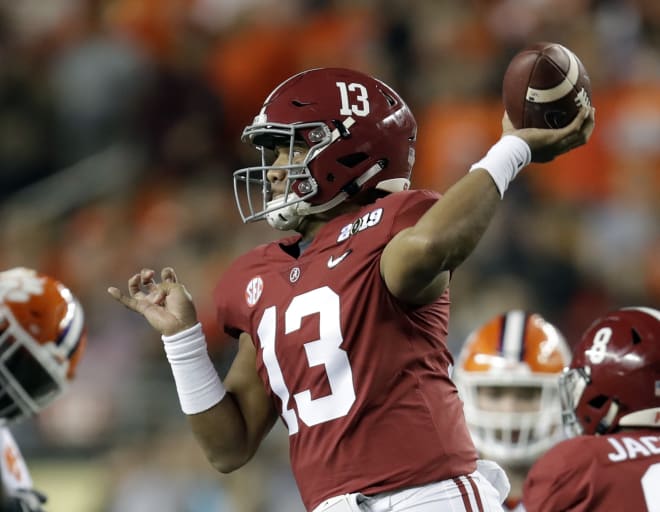 Overview: In every measurable sense, Tagovailoa had a phenomenal season, completing more than 68 percent of his passes for 3,946 yards with 42 touchdowns and only six interceptions - two fewer than Ohio State's Dwayne Haskins and one fewer than Kyler Murray. Everything went so well except for his performance in the national title game, when Clemson forced him into two picks in Alabama's 44-16 loss to the Tigers.

Plus, there could be another factor when NFL executives consider Tagovailoa after this next season. And while it might sound silly to some, it will play into the pre-draft process. Tagovailoa is a lefty and we can all count on one hand how many lefty quarterbacks have made an impact in the NFL in recent years.
Farrell's take: Everyone knows I am not a fan of lefty quarterbacks and they usually don't pan out but Tagovailoa could very well be the exception. I can count on one hand the number of standout lefties in NFL history, so that's an issue but if he continues to progress the way he has and have another big season, we could see Tank For Tua in the NFL next season for the 2020 NFL Draft. Unlike most lefty quarterbacks, his accuracy is on point, his arm strength is excellent and his mechanics are very good. Is he the next Steve Young? He could be.