Five ACC teams most interested in Rivals100 Five-Star Challenge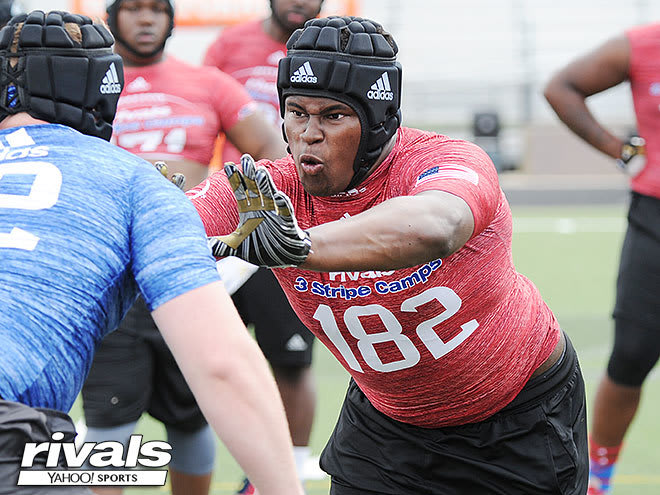 The ACC boasts the defending national champion and what seems like a growing allure on the recruiting trail. It's part of why the league has plenty of reason to monitor the Rivals100 Five-Star Challenge presented by adidas. Below are the five league schools that should be paying the closest attention to the event this weekend in Indianapolis.
RELATED: Big Ten teams tracking Five-Star Challenge | SEC | Roster
1. FLORIDA STATE
Florida State has its prized commit to keep an eye on, as five-star running back James Cook will clash with a crop of high-level prospects at the camp. Add in the fact that the quarterback the Seminoles are attempting to flip from Penn State, Justin Fields, will also be in attendance, and there will be no shortage of FSU interest. A newly minted five-star, Fields has been a player on the rise in recent months and hopes to cap off an impressive spring with a special showing on a big stage. He's also likely to share the latest on the Noles' courtship of him. Linebacker commit Amari Gainer will also be in attendance.

2. VIRGINIA TECH
Virginia Tech fans will want to check out the news that emerges from the event as much as they'll be interested in who stands out in Saturday's action. The slew of players with serious interest in the Hokies will arrive on Friday and likely arrive with some semblance of news. Rasheed Walker, Rick Sandidge, KJ Henry and Dax Hollifield all have varying levels of interest in Tech. The quotes that roll out of Friday's media day will be of interest to say the least.

3. NORTH CAROLINA
North Carolina's reasons to monitor the Rivals100 Five-Star Challenge mirror those of Virginia Tech. The Tar Heels are recruiting against the Hokies in many instances and have a deep interest in prospects such as Sandidge, Hollifield and Walker. UNC has seen a bump in recruiting clout in recent years and the number of camp participants with serious interest in the program is proof of that.

MIAMI
Five-star running back Lorenzo Lingard was invited but couldn't make the trip because of an academic engagement, but there's still plenty of reasons for Hurricanes fans to keep an eye on the event. Offensive lineman Delone Scaife will bring his new fourth star to Indiana and clash with top-flight defensive linemen. Defensive back Al Blades, a Miami legacy most expect to choose the Hurricanes, will also be in attendance. Players such as Jamien Sherwood, Dennis Briggs and Elijah Moore, all of whom have interest in Miami, are also worth monitoring.

CLEMSON
Clemson quarterback commit Trevor Lawrence, the nation's No. 1 prospect, is the event's headliner. And while the five-star prospect is solidly committed, Tigers fans will still be interested in his showing. Lawrence normally thrives in all-star camp settings, and this weekend should be no different.
Offensive lineman Trey Hill is a priority Clemson target, as is five-star defensive end K.J. Henry. Henry's on-site interviews about his recruitment will be of more interest to Clemson fans than his play, as his landing spot is very much undetermined.