Finding matches for players in transfer portal
With National Signing Day officially in the books and just a handful of notable high school prospects still on the market, schools that didn't get what needed at the high school ranks will now turn to the transfer market.
The transfer portal is full of talented players and recruitment of many should heat up in the coming weeks. With that in mind, we take a look at some of the schools that didn't quite finish like they hoped on the recruiting trail and play the match game with players in the portal to find the best fit.
MORE: Five signees who will make big impacts as true freshmen

JORDAN WILSON - Florida State
As a recruit: Wilson committed to UCLA during the summer prior to his senior year, picking the Bruins over Louisville, Missouri and several others.
At UCLA: Wilson went through plenty of changes during his time with the Bruins but eventually worked his way up the depth chart and was a regular contributor for UCLA over the past three seasons. Heading into 2020 it looked like he would be in line to be the main option at tight end, but instead he will finish his career elsewhere. Wilson has 25 career catches for 244 yards and two touchdowns. He has one season of eligibility remaining and will be eligible to play in 2020 at his next school.
Why it's a match: MIke Norvell and his staff are very familiar with Wilson from his days as a recruit as the Tigers were one of the first schools to offer Wilson, a Tennessee native. Given Florida State's need for a tight end and the way Norvell has used the position in the offense before, this could be a great pairing.
JAUAN WILLIAMS - Maryland
As a recruit: Regarded by some to be the best offensive tackle in his class, especially early in his high school career, Williams had his share of options before committing to Florida State over Georgia, LSU, Texas A&M and others on Signing Day 2016.
At Florida State: Williams' career with the Seminoles never really got off the ground with the Seminoles as he struggled to see consistent playing time throughout his career. Thanks to a combination of injuries and ineffective play, Williams couldn't turn opportunity into a regular role, even though he started eight combined games during 2018 and 2019. He is a graduate transfer with one season of eligibility remaining.
Why it's a match: Williams saw so much coaching turnover during his time with the Seminoles that he chose to enter the portal rather than be paired with another new set of coaches. A return close to home at Maryland would be a great fit and the Terrapins are clearly in need of help at the position as evidenced by their addition of six offensive line signees in the Class of 2020.
RICKY SLADE - Boston College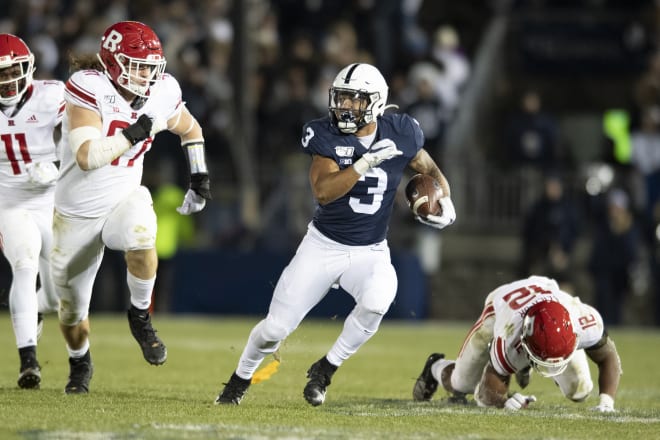 As a recruit: Slade, one of the top-ranked running backs in the 2018 class, committed to Penn State a year before signing with the Nittany Lions, choosing them over USC, Virginia Tech and others.

At Penn State: Slade worked his way into the rotation among a stable of elite running backs, rushing for 471 yards and eight touchdowns on the ground while also catching 13 passes for 117 yards. With Noah Cain and Journey Brown ahead of him on the depth chart, Slade entered the portal this week. He will have at least two years of eligibility remaining at his next school.

Why it's a match: The Eagles have a serious hole to fill with the departure of running back A.J. Dillon the NFL Draft and took just one running back in the Class of 2020, a class that finished No. 63 in the country. Slade could step right in and get the carries he's looking for and have a chance ease new head coach Jeff Haffley's transition with the Eagles.
DEE ANDERSON - Oklahoma State
As a recruit: Anderson committed to LSU during the summer prior to his junior season of high school and never really wavered on that pledge.

At LSU: Anderson's career with the Tigers was a roller coaster as he struggled to see the field early and finally appeared to break out during the 2018 season, only to be suspended for the Tigers 2019 national championship run. In 2018, he caught passes for 274 yards and a touchdown, and looked to be a key piece of the offense before being suspended for what was deemed a "conditioning" issue. As a graduate transfer he will have immediate eligibility for his final season of college football.

Why it's a match: This one is sort of cheating, because Anderson already visited Oklahoma State and the Cowboys appear to be a serious option to land him. Nonetheless, the chance to catch passes in the 'Pokes offense is obvious and Oklahoma State has lost some depth at receiver to the portal this as well.
RONNIE WALKER - Virginia
As a recruit: Walker committed to Indiana just prior to the start of his senior season, choosing the Hoosiers over Virginia, Virginia Tech, North Carolina and others.

At Indiana: Walker was in the mix at running back plenty over the past two years, rushing for 221 yards and two touchdowns while also recording 121 yards and a touchdown receiving. With his role not cemented for 2020 and perhaps a desire to return closer to home, Walker entered the portal this week. He will have at least two years of eligibility remaining at his next school.

Why it's a match: This is a pretty easy one as Virginia nearly landed Walker out of high school, is close to home and has a need at the position. The Cavaliers didn't take a running back in the 2020 class and are also highly interested in Walker's young brother, TreVeyon Henderson, a standout in the 2021 class. A chance for the brothers to play together only makes this match sweeter.