Final Rivals250: Breaking down changes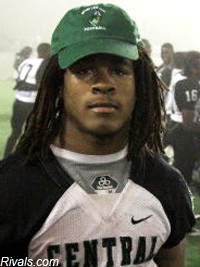 The final Rivals 250 was released Wednesday and there were certainly some serious movers both up and down at the top of the list.
Coming in at No. 101 and just missing out on exclusive Rivals100 status is Manning (S.C.) defensive tackle
Phillip Dukes
, who moved all the way from No. 230.
"Dukes showed good athleticism for his size and the ability to rush the passer from his defensive tackle position as well as stuff the run," Rivals.com analyst Mike Farrell said. "He can also run plays down and he plays through injuries as he showed at the Shrine Bowl of the Carolinas."
Right behind Dukes at No. 102 is Akron (Ohio) St. Vincent-St. Mary defensive back
Doran Grant
, who plummeted 69 spots after a lackluster showing at the Under Armour All-American Game.
The
Ohio State
commit struggled in coverage and didn't show elite cover ability during the week. He was burned a couple times by four-star
Oregon
commit
Devon Blackmon
in the game.
His adjustment in the rankings isn't necessarily a knock on his ability, just a move the Rivals.com analysts felt was appropriate after evaluating him in person for an extended period of time.
"Grant isn't the biggest cornerback and he is lacking in speed a little bit," Rivals.com analyst Brian Perroni said. "He struggled with some of the quicker receivers all week in Under Armour practices and was beaten badly in the game twice by Devon Blackmon. He has solid coverage skills but could have trouble with the faster wideouts in college."
The next two prospects on the list, Griffin (Ga.) safety
Corey Moore
and Owings Mills (Md.) offensive lineman
Donovan Smith
, made significant jumps in the rankings after impressive performances at the U.S. Army All-American Game.
Moore, a
Georgia
commit, was especially active and aggressive in the East secondary. He was one of the best defensive backs on either side of the ball in San Antonio. Smith, a
Penn State
pledge, is big and strong and impressed a lot of the analysts more during the all-star week than at previous events.
Moore moved up from No. 143. Smith made an even bigger jump coming from No. 199.
"Corey Moore showed the ability to cover and break on the ball during the U.S. Army practices," Rivals.com analyst Barry Every said. "What stands out is the fact that he is almost the size of a linebacker."
Said Farrell on Smith: "He proved he belonged not only at the U.S. Army Bowl but he became a starter and was one of the best linemen overall on either side. He proved he can play tackle at the next level and was one of the few guys who was able to keep the East defensive ends in check, an impressive feat even if it was only during practice. In the game he was outstanding."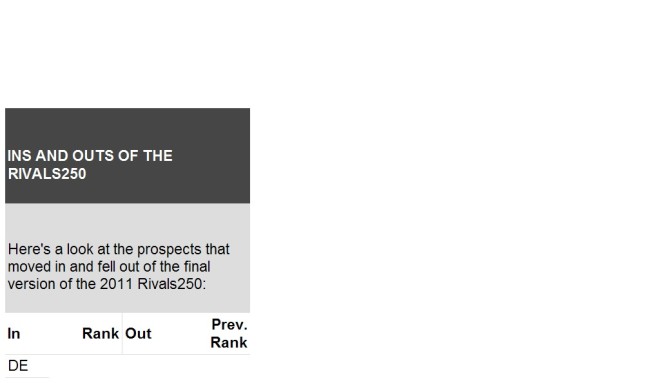 Miami (Fla.) Miami Central running back
Devonta Freeman
, who was previously unranked, moved all the way to No. 108.
"Freeman saw a significant move into the Rivals250 after a strong senior campaign that saw him rush for over 2,200 yards and 26 touchdowns against some of the best football teams in South Florida," Rivals.com analyst Chris Nee said.
"He capped off that senior campaign with over 300 yards and three touchdowns in a state championship victory over an Orlando (Fla.) Dr. Phillips squad, which is loaded with Division I talent on the defensive side of the ball.
"Freeman possesses a diverse skill set that makes him a running back coach's dream. He has good speed, excellent vision and good balance. He does a good job attacking the defense and not dancing around after the handoff. Most of all, you will rarely see him brought down on first contact."
Other than Dukes, Moore, Freeman and Smith, players making significant moves up included Fort Lauderdale (Fla.) Dillard defensive back
Wayne Lyons
from No. 160 to 107, Port Sulphur (La.) South Plaquemines wide receiver
Bradley Sylve
(No. 184 to No. 122) and Long Branch (N.J.) athlete
Miles Shuler
from No. 189 to 127.
Lyons and Shuler impressed at the Army game. Sylve showed good signs at Under Armour.
"Wayne Lyons was thrust into the role as a corner at the Army game," Every said. "Everyone already knew that he wasn't afraid of contact but can he cover? The answer is yes. He is a hard-hitting safety with serious cover skills."
After an impressive showing during Army practice, Sacramento (Calif.) Grant safety
James Sample
moved from No. 206 to 135. Milford (Pa.) Delaware Valley offensive guard skyrocketed from No. 233 to 143.
The second-biggest unranked mover is Jackson (Miss.) Callaway offensive tackle
Aaron Morris
, who checks in at No. 146. He impressed multiple Rivals.com analysts at the Alabama-Mississippi All-Star Game.
Others that deserve recognition include Cleveland (Texas) defensive end
Cedric Reed
, who moved up 62 spots; Indianapolis (Ind.) Warren Central offensive tackle
Kiaro Holts
, who went from No. 216 to 166; Canton (Ohio) McKinley defensive end
Steve Miller
, who went from unranked to No. 167; and Powder Springs (Ga.) Hillgrove linebacker
Jabari Hunt-Days
, who moved from No. 241 to 187.
Three other guys that went from unranked into the top 200 were Encino (Calif.) Crespi wide receiver
Devin Lucien
, Corona (Calif.) Centennial quarterback
Michael Eubank
and West Palm Beach (Fla.) Dwyer outside linebacker
Curt Maggitt
.
A few previous Rivals 100 players dropped out but didn't fall far in the rankings. Gainesville (Ga.) East Hall defensive end
Sterling Bailey
went from No. 94 to 105 and Scottsdale (Ariz.) Saguaro offensive guard
Cyrus Hobbi
fell from No. 82 to 110.
Others dropped in significant ways after they were evaluated at postseason all-star events and on senior highlight film, as others moved up into the Rivals100 to fill spots.
Prospects taking some of the biggest dives were Galena Park (Texas) North Shore offensive guard
Sedrick Flowers
, who fell from No. 50 to 111; Leeds (Ala.) defensive back
Jonathan Rose
, No. 66 to 112; Miami (Fla.) Northwestern quarterback
Teddy Bridgewater
, No. 70 to 113; Durham (N.C.) Jordan wide receiver
T.J. Thorpe
, No. 97 to 123; Springdale (Ark.) Har-Ber offensive tackle
Brey Cook
, No. 59 to No. 124; San Antonio (Texas) Sam Houston defensive tackle
Quincy Russell
, No. 86 to 125; and Livermore (Calif.) Granada athlete
George Atkinson III
, from No. 89 to 126.
Raleigh (Miss.) wide receiver
Donte Moncrief
(91 to 130) fell and Paramus (N.J.) Paramus Catholic defensive tackle
Marquise Wright
took one of the biggest hits, dropping from No. 69 to 149.
[rl]