FB gives Terps visit high marks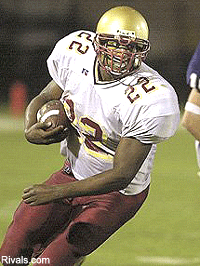 Brookwood, Ga., two-star fullback
Antonio Lamar
took his first official visit to Maryland this past weekend. With the Terps on the top of his list heading into the visit, was he tempted to commit?
"I was a little bit," Lamar, who is 6-foot-2 and 240 pounds, said. "I had a lot of fun on the visit. They have a good coaching staff and it's a great town. I'm excited about them, but I owe it to myself to take other visits."
Those other visits will be to South Carolina on January 9 and then to Florida on January 23. The Terps and Gamecocks have offered Lamar a scholarship, while the Gators have yet to.
Lamar earned all-county honors as a senior and also was named to play in the North-South Georgia all-star game.