Farrell Midseason 50: Nos. 11-15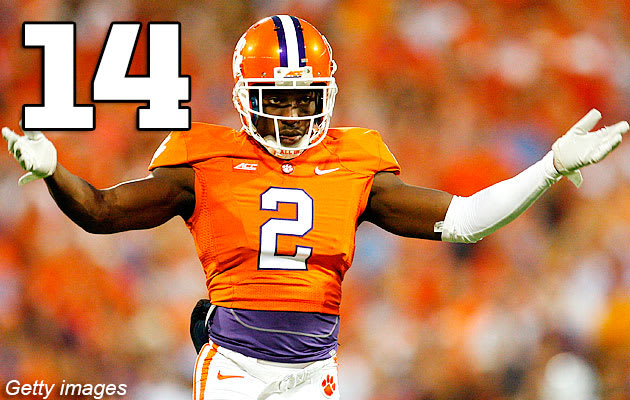 The skinny:
No. 42 overall, the No. 7 cornerback and the No. 8 recruit from Florida in the class of 2013, Alexander had a pretty chaotic recruiting process. After taking official visits to Clemson,
Mississippi State
,
Texas A&M
and
Rutgers
, Alexander committed to the Tigers. Alexander has become one of the top shutdown cornerbacks in the country, for a defense that is improving by the week.
Farrell's take:
Alexander's numbers are worse than any other cornerback on this list and it's because he's avoided more than anyone, the bigger names included. He has been proven to be a true lockdown cornerback who is targeted maybe once or twice a game by lesser opponents and helped lock down Will Fuller against
Notre Dame
. He leads a secondary that is giving up less than a 50-percent completion rate by opponents and he's climbing up the NFL charts as some others rated ahead of him struggle a bit.
13
WR
Long Beach (Calif.) Poly, 2014, five-star
The skinny:
No. 24 overall, the No. 2 safety and the No. 3 recruit from California in 2014. Smith-Schuster always held USC in high regard. While
UCLA
made a late push, Smith committed to the Trojans on National Signing Day. Smith has been dynamic this season, totaling 39 receptions for 758 yards and seven touchdowns for the Trojans.
Farrell's take:
An amazing athlete, JuJu reminded me a bit of
Marqise Lee
because he could be dominant on defense or offense in high school. But unlike Lee, I didn't freeze up when it came to giving out a fifth star here and Smith is proving worthy. He's one of the best weapons in the country and has emerged as a dominant, physical receiver that scouts will be drooling over next season.
12
RB
Cedartown, Ga., 2014, four-star
The skinny:
No. 35 overall, the No. 6 running back and the No. 3 recruit from Georgia in 2014, Chubb committed to Georgia in June after trimming his list to the Bulldogs,
Auburn
and
South Carolina
. Chubb continued to prove himself as one of the more dominating running backs in the country this fall, totaling 747 yards and seven touchdowns on 92 carries to this point, however, a knee injury cut his season short.
Farrell's take: The respect I have for Chubb is evident by his inclusion on this list, the only player with a season-ending injury to make it. He was only two spots from a fifth star in high school, but I regret not pushing for that status. Chubb runs hard, he is low to the ground and hard to tackle. Like Treadwell last year, here's hoping he recovers from a scary, ugly injury.
11
DE
Fort Lauderdale (Fla.) St. Thomas Aquinas, 2013, four-star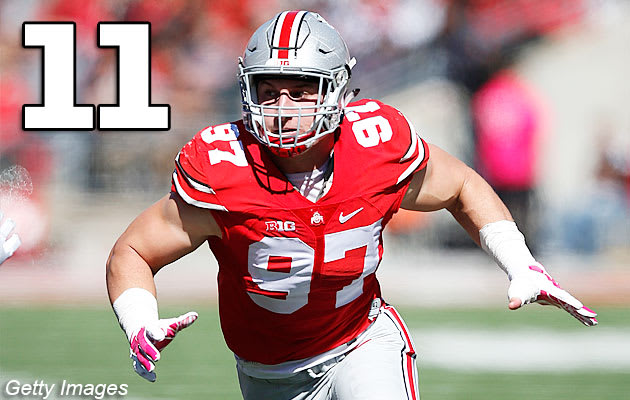 The skinny:
No. 47 overall, the No. 4 strongside defensive end and the No. 9 recruit from Florida in 2013, Bosa trimmed his list to Ohio State,
Michigan
,
Florida State
and
Alabama
after a series of visits. Soon after these visits he surprised some with a commitment to the Buckeyes. Bosa missed the first game of the season and got off to a slow start, but has quickly hit his stride with 27 tackles, eight for a loss, and 2.5 sacks for the Buckeyes.
Farrell's take: The son of the former Boston College defensive end great was a monster in high school. He was physically imposing and had the ceiling to warrant five-star status, so we missed a bit there despite his top 50 ranking. His play this season on the field has been uninspired at times, but other times he is simply dominant. He needs more consistency to shoot up this list, but he's starting to awaken and he will play his best football down the stretch.
Mike Farrell
National Recruiting Director

Click
Here
to view this Link.