Farrell Freshman 15: Nos. 1-3
3. WILL ANDERSON, Alabama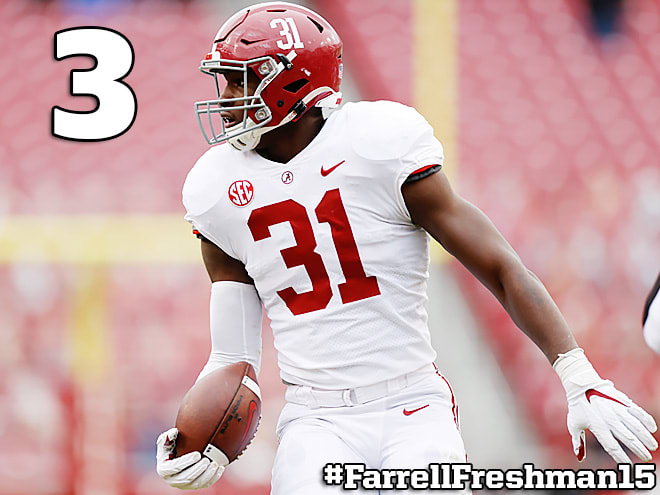 The skinny: Anderson committed to Alabama during the summer leading up to his senior season. He had taken several unofficial visits to Tuscaloosa as well as to Georgia Tech, Florida and Auburn before making his decision.

While several Tide true freshmen excelled on defense, Anderson has been the most dynamic with 43 tackles, 10.5 tackles for a loss, seven sacks and one forced fumble.
Farrell's take: Anderson wowed us at the NBC All American Bowl with his speed and balance so it's no surprise to see him dominate as an edge rusher early for Alabama. He's going to be one of the best pass rushers in the country next season.
2. TANK BIGSBY, Alabama
The skinny: Bigsby committed to Auburn in the weeks leading up to his senior season. Georgia continued to push throughout the fall, and got him on campus for an unofficial visit, but were never able to flip the four-star running back.

Bigsby quickly emerged as a top-level running back in the SEC this fall, totaling 834 yards and five touchdowns rushing and 11 receptions, while also returning kickoffs.
Farrell's take: It's looking like we should have kept Bigsby a five-star huh? He's off to a tremendous start in his career and carried the offense at times this season. His east-west running is gone and he looks like the guy who dominated his playoff last season.
1. ELIAS RICKS, LSU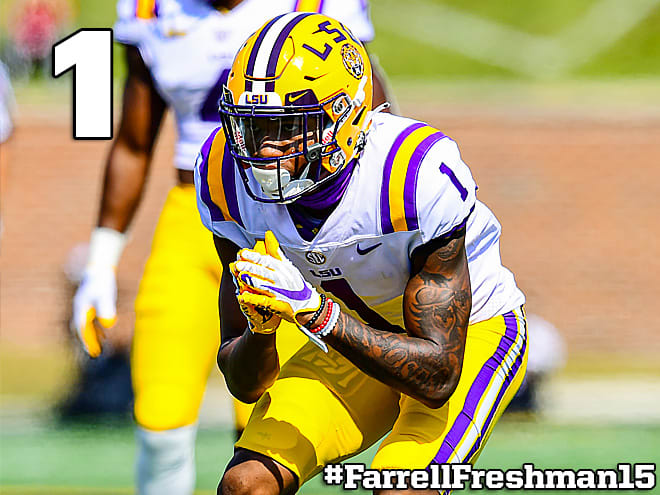 The skinny: Ricks took an unofficial visit to Baton Rouge during his junior season which led to his commitment on Christmas Day. The California native, who played his final high school season at IMG Academy in Florida, stayed firm with the Tigers through the next year as most of the top programs in the country continued their chase.

A year after Derek Stingley Jr. made an immediate impact as an elite defensive back true freshman at LSU, Ricks did the same this fall with 20 tackles and four interceptions, two of which were returned for a touchdown, and five pass breakups.
Farrell's take: Ricks had around 7 interceptions for a score one season in high school and that's no fluke as he did it twice this season. As a five-star cornerback, this is no surprise at all and he's the best great one following Stingley Jr. at LSU.