Farrell Freshman 15: Countdown continues with Nos. 4-6
Mark Pszonak contributed to this report.
The college football regular season is over and numerous true freshmen have stood out. The annual postseason Farrell Freshman 15 continues today, led by three offensive standouts.
FARRELL FRESHMAN 15: Nos. 7-9 | 10-12 | 13-15 | Postseason top 50 CFB players
6. CEDARIAN LAMB - OKLAHOMA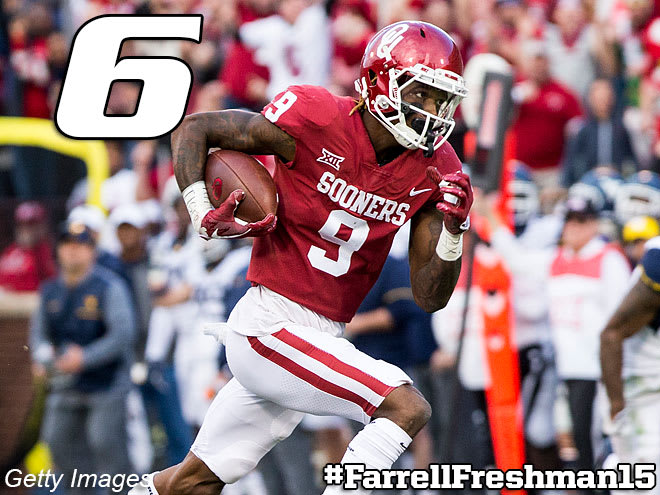 The skinny: Lamb was initially an early commitment to the Sooners but then decommitted in order to take a closer look at a few other schools. Texas A&M and Ole Miss came the closest to challenging the Sooners, but at the end he found his way back to Norman by re-committing to Oklahoma in July. With star receiver Dede Westbrook moving on to the NFL, Lamb had an immediate opportunity to make an impact in the Sooners' high-powered offense. He responded by reeling in 40 receptions for 741 yards and seven touchdowns, as he quickly established a relationship with quarterback Baker Mayfield.
Farrell's take: Lamb was one of those players I felt could be underranked when we finished the 2017 cycle. While he was still a Rivals100 prospect and top 10 at his position, it was his size, speed and home run ability that led me to believe he was an amazing fit for the Big 12. We don't rank players based on the team or conference they choose because so many factors can change (coaches, systems, etc.), but this was a match made in heaven for Lamb and the Sooners' staff.
5. A.J. DILLON - BOSTON COLLEGE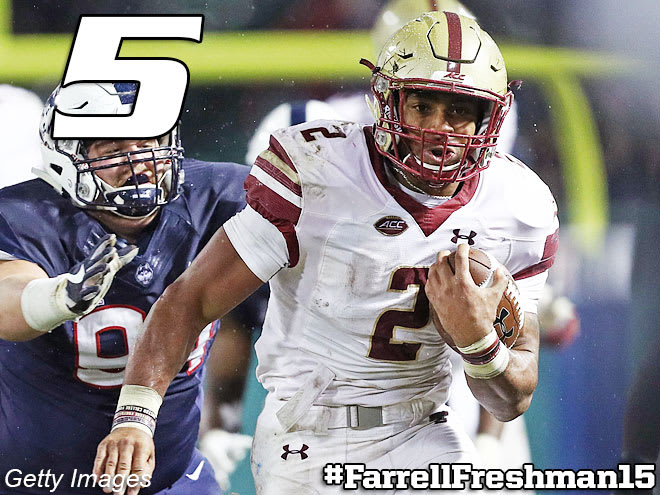 The skinny: Dillon initially committed to Michigan during the spring after his junior season, but then flipped to Boston College in December. While he was committed to the Wolverines, the BC staff never eased up on its pursuit of the in-state running back. After rushing for 178 yards and one touchdown in the Eagles' first four games, Dillon led a recharged BC offense over the last eight games with 1,254 yards and 12 touchdowns.
Farrell's take: Dillon was a big kid with solid speed and nifty feet that we liked, but I didn't think he was as quick as he showed at the college level or as evasive. He's been a workhorse for Boston College this season and has shown vision and footwork. His ability to run with power and always fall forward for extra yards have been impressive as well. He looks a bit like a young Derrick Henry.
4. ANDREW THOMAS - GEORGIA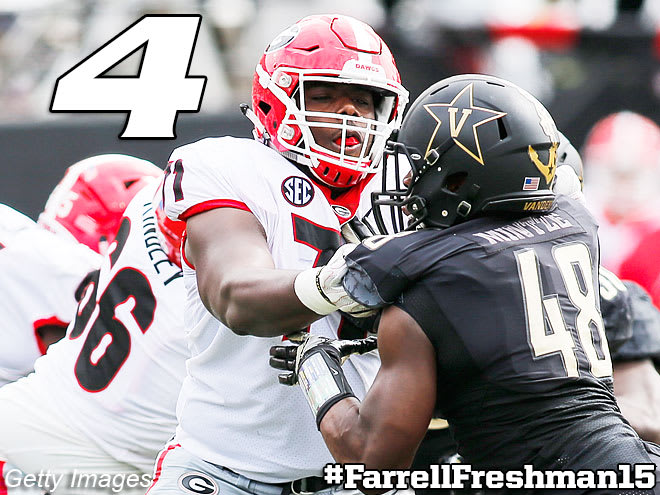 The skinny: Thomas trimmed his list to Georgia, Clemson and Notre Dame prior to committing to the Bulldogs at The Opening. Upon his arrival, expectations were high for Thomas in Athens, but not many people predicted his level of play would be as impressive as it has been in 2017. Starting all 13 games at right tackle, Thomas helped solidify an offensive line that helped Jake Fromm ease into his role at starting quarterback, while also paving the way for a powerful running attack.
Farrell's take: As a Rivals100 prospect and top 10 offensive tackle nationally, we liked Thomas quite a bit and he got stronger as the rankings cycle progressed. He became more physical with each evaluation and was especially impressive at the U.S. Army Bowl week where he shot up into our final Rivals100. He had a good frame, excellent reach and good feet, but what he's done as a starter since day one at Georgia is still way ahead of schedule. He's been a big part of the Dawgs' playoff run.