Farrell 50: The nation's top players - Nos. 46-50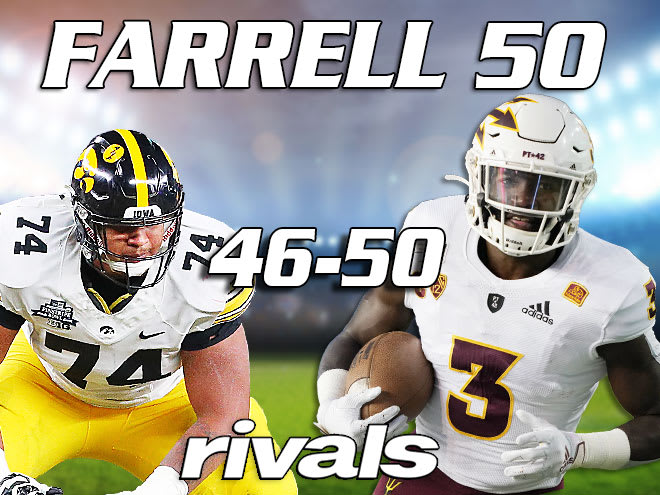 Mark Pszonak contributed to this report.
It's that time of year, the middle of the college football season and time for a look at the Farrell 50 — the top 50 players in college football and how the were ranked as recruits. We start today with Nos. 46-50.

The skinny: Benjamin initially committed to Iowa, but re-opened his recruitment during his senior season. After trimming his new list down to Arizona State, Utah and Michigan, he committed to the Sun Devils at the Army All-American Bowl. Plenty was expected from Benjamin this fall, after he rushed for 1,642 yards and 16 touchdowns in 2018, and while his production has rushing numbers have dipped, he has still proven to be very productive with 643 yards and eight touchdowns from the line of scrimmage.
Farrell's take: Benjamin was a Rivals100 running back coming out of high school and No. 5 at his position, so we thought very highly of him. He had good size and ran with decisiveness and power and he was an underrated pass catcher as well. I originally liked his fit at Iowa better, but he has had a great career at Arizona State and shown he can run in a wide open offense as well. He's a workhorse.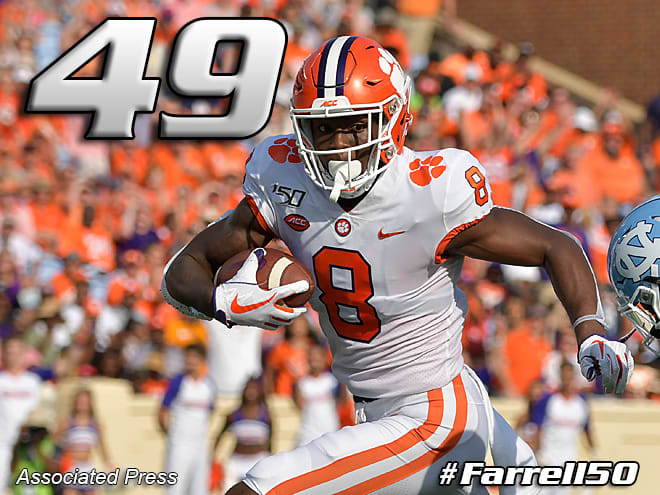 The skinny: It was believed that Ross would choose between Alabama and Auburn, but a very successful official visit to Clemson in December quickly changed everything. Despite taking official visits to both Tuscaloosa and Auburn in January, Ross committed to the Tigers on National Signing Day. After an amazing conclusion to his 2018 season, Ross has yet to hit his stride yet in 2019. But one can expect him to regain his big-play ability for the Tigers as the season progresses, especially when Trevor Lawrence also begins to play to his potential.
Farrell's take: Ross was a no-brainer as a five-star wide receiver coming out of high school with great size and body control. He reminded me a bit of AJ Green and was the best wide receiver in Alabama since Julio Jones. He has big hands, snatches the ball out of the air and is an excellent 50-50 ball receiver. It's no surprise he was as impressive as he was as a freshman. He's off to a slower start this year as the offense has yet to click.
The skinny: Due to academic issues, Jefferson's recruitment never fully took off. But with two older brothers having played at LSU, the Tigers were always the firm leader. So when he was finally able to get his academics in order, a commitment happened in late June, several months after his Signing Day. With Joe Burrow having a Heisman-level season, both Jefferson and Ja'Marr Chase are taking advantage. The choice here is Jefferson though, who has been more consistent during the early stages of the season with 21 receptions for 392 yards and five touchdowns.
Farrell's take: Jefferson was a late throw in for the LSU class because of academic issues and many schools backed off. The Tigers were very smart in believing in him and he's shown that he was very underrated coming out of high school. A two-star who is playing like a four-star at least and a huge key to the LSU offense.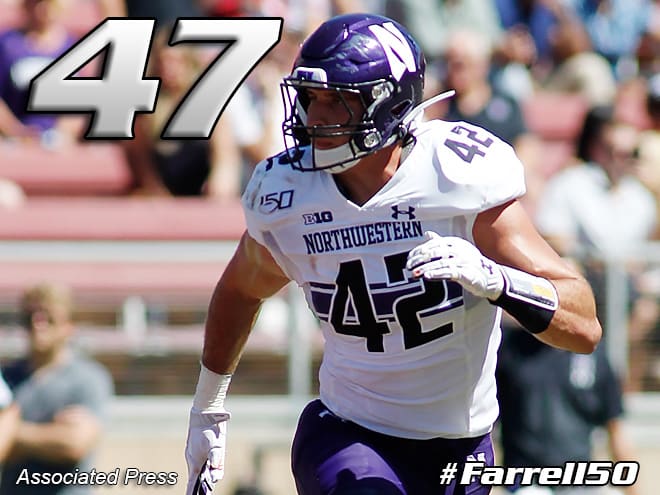 The skinny: Holding approximately 10 offers, Fisher trimmed his list of top schools down Northwestern and Baylor before committing to the Wildcats during the summer leading up to his senior season. At Northwestern, Fisher has been a tackling machine since he stepped foot on campus. And while the Wildcats aren't experiencing the same level of success on the field as they did in 2018, Fisher continues to produce with 27 tackles, 1.5 tackles for a loss, one interception, one forced fumble and three pass break-ups.
Farrell's take: Fisher was a low three-star out of high school with good instincts, but there were questions about his speed and overall athleticism. He was bypassed by the bigger schools in Texas and Northwestern found a gem. He's now one of the surest tacklers in the country and one of the more instinctual linebackers when it comes to reading the play. Watch him in any game and you'll see why he's one of the Big Ten's best.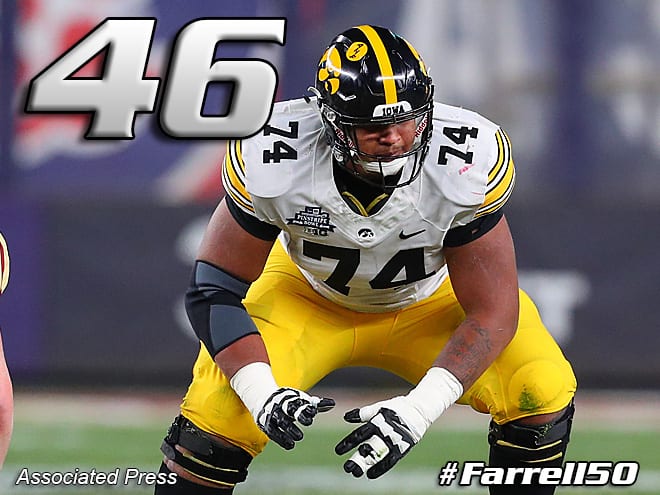 The skinny: With plenty of buzz surrounding the young in-state offensive lineman, Iowa and Iowa State were the first two offers for Wirfs. While it was still early in the 2017 cycle, and after a few visits to Iowa City, he ended his recruitment with a commitment to the Hawkeyes during his junior season.

At Iowa, Wirfs has developed into one of the top offensive tackles in the country. This has continued in 2019, which continues to catch the eye of NFL scouts, who have him as a likely first-round draft pick in 2020.
Farrell's take: Wirfs was a highly regarded four-star in the state of Iowa and a must-get for the Hawkeyes. He had an excellent frame, room to add weight and he was technically sound and very smart. He's become even more physical at the next level and has a bright NFL future ahead of him.