Fact or Fiction: NC State has the edge with WR Noah Rogers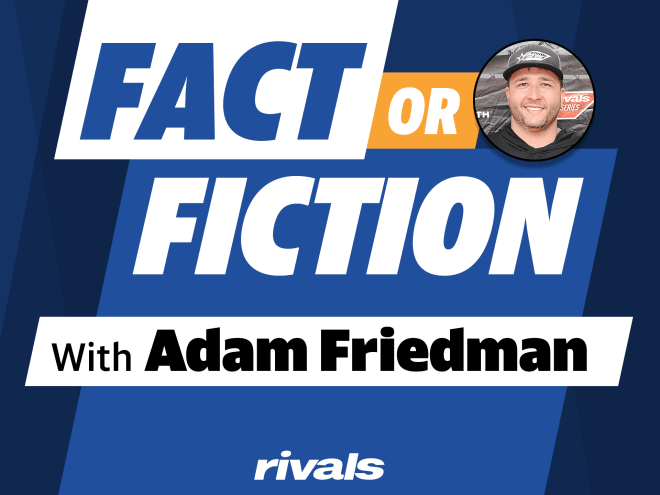 1. NC State has the momentum with Rivals100 WR Noah Rogers.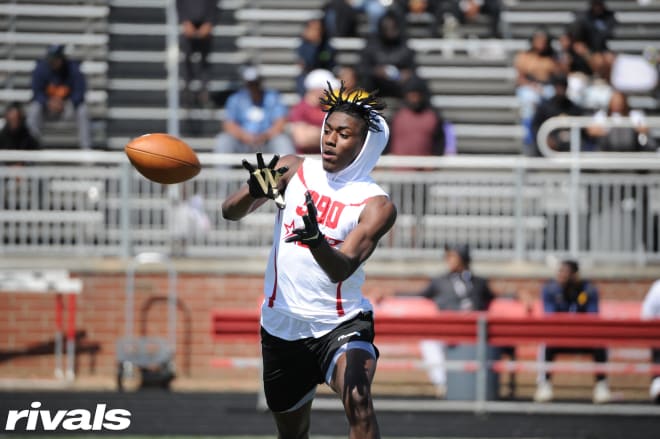 Friedman's take: FACT. Rogers was supposed to take an official visit to Ohio State this past weekend but, luckily for NC State his flight was cancelled due to the weather. He never made it to Ohio State and instead spent significant time at NC State.
The Buckeyes now have three receivers committed, including five-stars Carnell Tate and Brandon Inniss, the No. 1 and No. 2 receivers in the Rivals250. Receiver Bryson Rodgers, a four-star from Florida, has been committed to Ohio State since mid-April.
Rogers nearly committed to Ohio State last month but held off and since then it seems as though NC State's position has gotten stronger. This recruitment won't be over until Rogers signs his letter of intent but, right now, NC State appears to have the momentum.
Zembal's take: FACT. NC State does have momentum with Rogers for the simple reason that he was ready to commit to Ohio State and something has prevented that. OSU just landed Rivals.com's No. 1 and No. 2 wide receivers in the country, and Rogers is ranked No. 11 at the position.
In some ways Rogers' recruitment is similar to a player 10 miles down the road from Rolesville (N.C.) High — former Wake Forest (N.C.) High defensive tackle Dexter Lawrence. Rogers and Lawrence both lived at NC State during the recruiting process for about two years, but Lawrence picked Clemson in the end. NC State has done its job in making it hard for Rogers to say "No."
Rogers is seemingly down to NC State, Ohio State, North Carolina and Clemson, with Alabama lurking. If Rogers picks NC State he'd be blazing a new path, likely surrounded by his friends. The Wolfpack's last first-round pick at wide receiver was Koren Robinson in 2001, and four wideouts have been drafted since that year.
*****
2. Penn State will go 2-for-2 with commitments from Rivals250 linebackers Tony Rojas and Ta'Mere Robinson.
Friedman's take: FACT. These commitments have been a long time coming for Penn State, and both prospects are set to announce their decisions next month. Rojas is up first on July 5, and his is the tighter race of the two. Penn State has been the favorite for him for a long time, but Clemson caught his attention early in the process. The Tigers have faded but Georgia pushed up his list after he visited the Athens campus earlier this month. It's hard to count the Dawgs out of any recruitment right now, but the national champs have been playing from behind.
Robinson's recruitment has been a bit easier to read. The Nittany Lions have been a major player for him from day one, and that hasn't changed. Virginia Tech and Miami round out his top three, but Penn State is the favorite to land his commitment on July 15.
Schnyderite's take: FACT. Penn State has long been the rumored favorite for two of the top linebackers in the country in Robinson and Rojas. For starters, the Nittany Lions have done a great job recruiting both in-state (landing five of the top 12 from Pennsylvania) and Virginia (two of the top five) in the class of 2023.
Both were on campus this past weekend for an official visit and, as we reported earlier this week, it sounds as though both visits went extremely well. The visits went so well that both recruits decided to announce their commitment dates almost immediately following the trip to State College. Not to mention Rojas canceled a previously scheduled official visit to Georgia this upcoming weekend. As of right now, all signs point toward the Nittany Lions staff adding both as they continue to prove why Penn State is Linebacker U.
*****
3. Pittsburgh will end up signing Jordan Bass.
Friedman's take: FICTION. I could see this going either way, but I'm leaning toward Fiction. I would've called Bass a Pitt lean just a few days ago, but the fact that he's taking a step back, as he said on Twitter, doesn't make me feel confident about Pitt's chances. Virginia Tech has refocused its efforts on in-state recruiting under new head coach Brent Pry and that could play a big role in where Bass ends up.
Peak's take: FACT. Pitt was the last addition to Bass' top five, but that happened after the Panthers impressed him on a late May unofficial visit. By the time he returned to campus for an official visit this past weekend Pitt was in a top-two spot, along with Virginia Tech, his only other official visit. And while the Hokies are attractive for the Virginia outside linebacker/strong safety, the appeal of Pitt's defense plus the continued efforts of linebackers coach Ryan Manalac and the impression Pitt's players made on Bass will ultimately lead him to being a Panther.