Fact or Fiction: Jaelen Gill will change the BC offense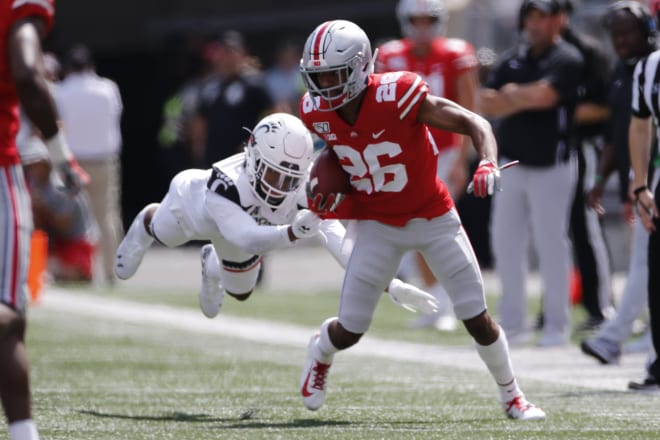 *****
1.  Jaelen Gill will change the BC offense.
Farrell's take: FACT. The former high four-star all-purpose back who transferred to Boston College from Ohio State was deemed immediately eligible on Tuesday and he will be a star in the BC offense. Why? He can work out of the backfield or the slot or even outside, and Jeff Hafley is well aware of his skill set from his days at Ohio State.

BC lacks speed in space overall, and Gill is just what the doctor ordered. I'm not saying the BC offense will be a terror, that's not their style. But he is the beginning of a shift to more versatile and dynamic offensive players.
Gorney's take: FICTION. Boston College loses AJ Dillon, and that's going to hurt because he was such a dominant and powerful running back, but the Eagles have some talented pass-catchers, the offensive line should dominate and the quarterback position is serviceable.

Will Gill "change" the Boston College offense? I doubt it. Gill is a super-impressive and versatile athlete and he was right on the fringe of a five-star ranking, but he never got a lot of run at Ohio State and looked for a new home. Boston College is going to get him the ball but the Eagles will be balanced as always. Gill is definitely a nice addition but not a complete program-changer.
*****
2.  We are going to discover some Ivy League stars in college football.
Farrell's take: FACT. You've probably never heard of Zach Sammartino and maybe you never will. Or perhaps you'll see him at a Power Five or Group of Five school as a starting offensive lineman.

When the Ivy League decided to shut down fall sports, the transfer portal swelled a bit with Ivy Leaguers like Sammartino looking for a new home. The 6-foot-5, 310-pounder was All-Ivy and All New England last year and could be a perfect fit for someone. He could decide this week, and if there is a college football season you'll see more Ivy League transfers making an impact across the national landscape.
Gorney's take: FACT. Quarterback Derek Kyler at Dartmouth could be the leader of the best team in the league. Or QB Griffin O'Connor at Yale. Or former four-star QB Brevin White at Princeton, who will be in the running to take over that starting job. And those are only some of the quarterbacks.

It's a shame the Ivy League has decided not to play. I understand kids there are genuinely students first and athletes second, but camaraderie, competition, battling through adversity and all the challenges that make athletics great will not happen. Some kids are going to transfer, make an impact and maybe even improve their pro prospects.
*****
3. Shedeur Sanders will bring national attention to FAU.
Farrell's take: FICTION. I love Deion Sanders. He's a legend and one of the best football players and athletes I've seen in my life. His son, quarterback Shedeur Sanders, is a good player who put up big numbers against weak competition the last couple of years. His commitment to Florida Atlantic and Willie Taggart made headlines Tuesday because Sanders is ranked as a top 50 player in the country by one recruiting site.

We have him as a high three-star quarterback, and that could be a bit generous. So, name aside, I don't think this is a huge deal. Sanders had interest from others schools but many backed off when they found other guys higher on their board or just didn't want to wait around. For FAU, this is a nice get, but nationally this isn't the story everyone wants it to be.
Gorney's take: FICTION. Name recognition is a major thing - but it also only goes so far. Do I think college football fans are going to regularly check in on FAU games to check out Sanders? No, I don't. They might be marginally interested for a while and then that luster fades and FAU ratings will probably stay about the same.

If Sanders surprises and becomes an absolutely superstar, then maybe the media hype and attention will become greater. But there have many kids with famous parents before, and Sanders is the next in line. Deion is great and his son is very talented, but FAU football isn't going to drive the ratings up.