English ready for Signing Day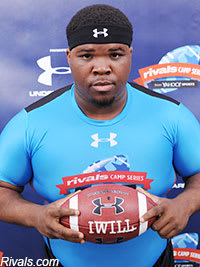 The DeSoto (Texas) defensive tackle is ready to see the recruiting process come to a close, and he will on Signing Day.
He has narrowed his list to three options. He has the
TCU
Horned Frogs. He has
Kansas State
Wildcats. And he has
SMU
Mustangs.
He took official visits to Kansas State (Jan. 30) and SMU (Jan. 16), and all three of his finalists have made a strong case.
Kansas State: "Just the overall family atmosphere. Me and coach Mo, we've been talking for awhile. He didn't think he was going to be able to get me. I had all these offers and he backed off a little bit. Once he heard I was on the market he pushed on me real hard. That's one thing I liked about it. And K-State, coach Snyder coached my dad back in the day, so they have a great relationship. Going down there it just felt like a big family, and meeting up with some of the players from Texas… there were a lot of them. That was good."
TCU: "Coach Patterson he's a great defensive coach. I've been getting recruited by coach Luper for the longest I'd say. Probably about two or three years coach Luper has been on me hard. TCU is right down the street. I can get back home and go to school. It's not too close, but not too far."
SMU: "Yeah, my head coach (Claude Mathis) is over there at SMU. Coach Morris, I'm certain that program is going to take off. Coach Morris, he has a vision. He is willing to put in the time and effort and he just needs those players to put in the time and the effort for that program to turn around."
English has an idea about where he will play his college ball and he plans to let the rest of the world know at 9:30 a.m. CT via Twitter.
He has experienced the ups and downs of the recruiting process, and he is ready to begin the next phase of his journey.
"I'm very excited," English said. "I'm not alone. It's me, my family, my friends, the whole community of DeSoto is excited to see where I'm going to go. Hopefully whatever school I go to they'll be out there supporting me and watching me on TV."
English is ranked No. 30 among the nation's 2015 defensive tackles and No. 66 in the Rivals.com Texas Final Top 100 for 2015.