Elite Florida LB has Georgia, Ohio State and Oklahoma on top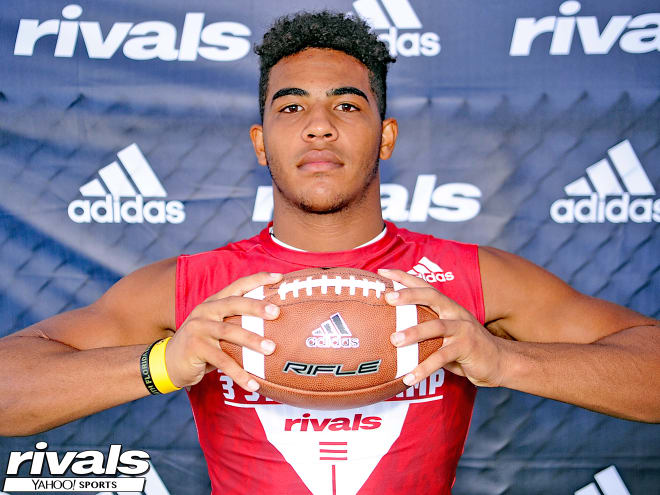 MIAMI — Every college coach in the country likely knows about St. Thomas Aquinas in Fort Lauderdale (Fla.). They win at a high level and they produce blue-chip talent at a high level on a regular basis.
One of their rising stars is linebacker Derek Wingo. He showed great athleticism at the Miami Rivals 3-stripe camp presented by adidas over the weekend and he showed why over a dozen schools have already offered him.
Being a top prospect in the Sunshine State, you'd expect his list of favorites to at least have one in-state school on it right — it doesn't.
It is three out-of-state schools from different conferences.
"Definitely for me right now, Oklahoma, Georgia and Ohio State are my top three schools," said Wingo. "It is those three for me. I like all three of them, each has offered me and they are my favorites."
Wingo did not say he had them in any type of order at this time, but the Sooners may be the early frontrunner based on the way he talked about them.
"I have been talking to Oklahoma more than any other school for a little while now. Coach Mike Stoops has been on me hard and I really want to get out there for a visit.
"I have watched them on T.V. and I like them a lot, but what stands out the most is how coach Stoops is recruiting me and he is getting to know me personally. Our talks are not just about football, but it has been about stuff off the field too. He has really shown me a lot."
The school Oklahoma faced in one of the best Rose Bowls of all time is Georgia. Wingo got to see two of his top three schools face off that day and he sees the Bulldogs as a contender moving forward.
"Georgia is a big SEC school and they are one of the top schools in the nation. They had a great season, they have a lot of great players and it is a school I want to visit. They have speed and I like their defense. I like what they are doing and I see them being good for a while."
While Lincoln Riley and Kirby Smart had their teams in the playoffs this season in their first and second years as a head coach, neither has been on top yet like Urban Meyer. He has three national championships and the consistency Meyer brings is one thing that stands out.
"Ohio State is a program with so much stability and I like that," said Wingo. "Seeing how they just put their players into the NFL really stands out to me too. They take high schools guys to the next level and coach them, train them and make them so much better."
The in-state school Wingo grew up following was Florida State, but the Seminoles have yet to offer. As he moves forward in the recruiting process, Wingo will see who he builds the best relationships with, where he fits in the best and what school can put him in best position to be successful on and off the field.