Eletise names final five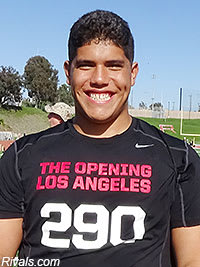 After sorting through over three dozen scholarship offers,
Michael Eletise
has narrowed his list to a final five.
"I can see myself at any of the five," Eletise said. "My plan is to visit each school either officially or unofficially. I am going to Washington on Monday, right after the NCAA dead period is over."
Eletise visited the Huskies in the spring and got a great feel for the program, but said it was important for his father to get a breakdown of everything as well.
"At UW, I love the coaches," Eletise said. "I talk to coach (Chris) Petersen the most of any head coach. They are going to make a huge impact in the Pac-12 and I like the team spirit there. They really work as a team."
Eletise has already visited the Arizona schools and has a sister that lives in the Phoenix area, so he's very comfortable there, too. He has drawn positives from both rivals.
"ASU, for me, is about coach (Chris) Thomsen," Eletise said. "He makes the players his family and then demands greatness. It's a brotherhood. I also like the campus and my sister is really close, so that's great.
"Arizona believes in me and they have from the beginning. They have great players, great academics and a great location. I like the ideals of Bear Down and Hard Edge. Matt Dudek and coach (Charlie) Ragle make me feel like part of the family, and I think they have all the pieces to be a Pac-12 champion. There is not anything I don't love about the Wildcats."
The two out-of-region programs, meanwhile, have certainly put in the work to be in the conversation. Nebraska sent a representative to Hawaii to see Eletise in person during the spring evaluation period and that meant a lot to the family.
"At Nebraska, coach (Mike) Cavanaugh is a great man," Eletise said. "He understands offensive linemen and Polynesian players. Nebraska is a football state and it would be great to live that. My Pastor, Ron Arnold, is a huge fan and tells me about all the great stuff going on in Nebraska. He tells me about the city and I'd like to walk into a sea of red."
The Rebels were also one of the first to join the chase and that paid off big time for the 6-foot-4, 302-pound lineman.
"I talked to Ole Miss on Monday and I just love them too much to let them go," Eletise said. "I love the tradition, coach (Hugh) Freeze and the way they play."
Eletise, the top-rated prospect in Hawaii for the 2016 class according to Rivals.com, said he won't drag out the process if he has found the perfect fit.