Early Signing Period: Biggest question for each SEC team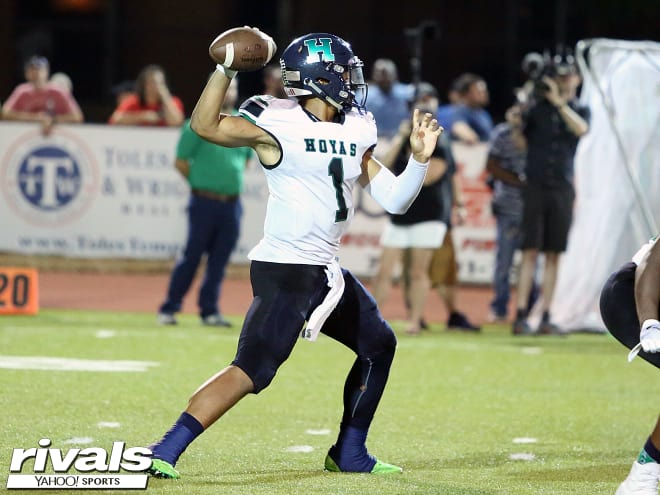 The inaugural early signing period for Division I football is just over a week away and we take a look around the SEC for the biggest storylines for each program heading into Dec. 20.
MORE EARLY SIGNING PERIOD PREVIEWS: Biggest Big Ten storylines
ALABAMA: Which DBs will sign early?
The Crimson Tide are expected to lose its entire secondary to graduation or early entry to the NFL draft. Alabama has to bring in players who have the athletic ability and competitiveness to compete as new comers. Alabama has commitments from four-star JUCO safety Saivion Smith, Rivals100 cornerback Nadab Joseph and four-star cornerback Jalyn Armour-Davis. All are expected to sign next week and enroll early. Alabama is also in very good position to flip four-star cornerback Miami commitment Josh Jobe. He is another early enrollee. Alabama could get four defense backs on campus in January if Jobe jumps on board. That would be a big recruiting win for Alabama at a much-needed position.
ARKANSAS: How much retention with coaching change?
Chad Morris is in as the new head coach at Arkansas, so how many of the commits under Bret Bielema will stay committed and sign in December now that Morris is the head coach? The majority seem to be on board and since the coaching change, new in-state targets have emerged, such as quarterback Gerry Bohanon and defensive tackle Billy Ferrell.
AUBURN: How many will sign?
​The biggest storyline for Auburn is how many of its 18 commitments will sign. Eight are early enrollees, so that leaves 10 who could either sign or wait. Right now, most of the 10 have said they will sign early, but two that remain big questions marks are Coynis Miller and Matthew Hill. Auburn, like most staffs, are pushing their commits to sign, so this is something we will track.
FLORIDA: What will happen at quarterback?
The Gators' commitment list has undergone quite a bit of changes since Dan Mullen took over the job and it doesn't appear like that is going to stop anytime soon. Currently, Rivals100 quarterback and longtime Gators pledge Matt Corral remains committed, but hasn't been shy about exploring other options like Alabama and Ole Miss. Meanwhile, Florida has also looked at other options at the position but it still seems as if Corral is the best available option. It will be interesting to see if Corral indeed sticks with Florida and how things eventually pan out given Mullen's track record of developing players at the position.

GEORGIA: Will Justin Fields sign early?
Yes, Justin Fields is committed to Georgia, but the Dawgs will have their eyes on him come Dec. 20 to see if he signs early. Not only does Georgia want him to sign and enroll, but they need him to. Everyone expects Jacob Eason to leave Athens, and if that transpires, Jake Fromm would be the only scholarship quarterback on campus for spring practice. Once again, all eyes of the Bulldog Nation will be on Fields.

KENTUCKY: Will any former Vols commits land in Lexington?
When things started to go south for Butch Jones at Tennessee earlier in the fall, it didn't take long for Kentucky to take advantage of the situation. The Wildcats coaches quickly targeted several then-Vols commitments, including four-star defensive back Trey Dean. Fast forward to now and the Vols have a new coaching staff, but that hasn't slowed Kentucky's momentum with players like Dean and former Vols wide receiver commit Shocky Jacques-Louis. Can Kentucky close with both players? The staff will be working hard to land both signatures during the early period.

LSU: How many more join the fold?
Despite having most of their class put together, LSU is still waiting on decisions from some pretty big targets, namely five-star wide receiver Terrace Marshall. Most believe it's down to the Tigers and Texas A&M for Marshall and he will announce his decision during the early period. Winning over Marshall would be a big statement that offensive playmakers from the Boot are buying into the Tigers revamped offense after just one season.

OLE MISS: How will Rebs fill quarterback hole?
Who will be the back-up quarterback in Oxford next fall? Shea Patterson is leaving, so the Rebels desperately need a signal caller, so they are working hard to sign one in December. It would be even better to have one sign in December and enroll in January. Matt Corrall, a Florida commit was on campus over the weekend. He'd be a huge pull for Matt Luke if he enrolls early. Other targets that enroll early are Texas Tech commit Alan Bowman and Texas commit Casey Thompson. Carter Bradley and Clayton Tune are two to watch that will enroll in the summer.

MISSISSIPPI STATE: Can Bulldogs maintain strong class?
Mississippi State has a chance to have a top 15 recruiting class and that is remarkable with a coaching change in December. It looks like the new Bulldogs coaching staff is pushing for their commits to sign early, so what percentage will do so? Will there be cuts, changes, flips and just how many will sign? The number 19 has been the number behind the scenes, so lets keep a close eye on that to see happens next week.

MISSOURI: Can Tigers keep late momentum?
Missouri has picked up six commitments over the past month and all six are expected to sign next week. Wide receiver Khmari Thompson out of Georgia and cornerback Chris Mills highlight that group. Barry Odom received a two-year extension, there is some momentum on the recruiting trail and next week will be a big one for the Tigers.

SOUTH CAROLINA: Will Thompson stay close to home?
South Carolina's interest in in-state athlete Bryce Thompson continues to grow and more and more it looks like Thompson has a chance to be part of the Gamecocks class. A star on the offseason camp circuit back in the spring, Thompson carried that momentum into the fall and recently led his team to a state championship. The one-time Virginia Tech commit looked like he might have been headed for junior college, but appears to be on track to play at the FBS level next season. After an official visit to Columbia over the weekend, will it be with the Gamecocks? We should have an indication by the time the early signing period ends.

TENNESSEE: What will Cade Mays do?
With all respect to Alontae Taylor and several other highly-ranked Vols targets, the collective focus of Vol Nation during the Early Signing Period will be on the native son, five-star offensive lineman Cade Mays. The bulldozing offensive linemen is a Vols legacy and grew up loving the program and was a longtime commit until things with south with Butch Jones. Can Jeremy Pruitt and the new staff lure him back into the fold? Mays has maintained his final three are Georgia, Ohio State and Clemson but it's not out of the realm of possibility that he could shock with his announcement and signature.
TEXAS A&M: Will the Aggies land a QB?
One of Jimbo Fisher's downfalls at Florida State was a couple of misses on quarterbacks late in his tenure in Tallahassee, leading to a lack of depth when Deondre Francois went down with an injury earlier this year. Texas A&M recently lost longtime quarterback commit Cade Fortin, a move that wasn't exactly unexpected considering Fortin wasn't offered by Fisher at Florida State, but now they are left looking at other options. The school recently offered longtime TCU commit Justin Rogers, but he's going to be a tough flip with so little time left. Former Mizzou commit James Foster is also a primary target, but many believe LSU has the edge at this point. Could the Aggies wait and search for a sleeper in time for February or will they close strong with a surprise name?
VANDERBILT: Will it be as smooth as projected?
The Commodores did a great job building their 2018 class early in the process and have had a relatively drama-free fall, which can't be said for the other SEC program in the Volunteer State. Right now it seems like all will go smoothly and the Commodores will collect signatures from nearly their entire class when the early period opens. But could late offers or some unforeseen circumstances shake things up? It's highly unlikely so Vanderbilt fans should enjoy a stress-free early period.