Early offers a concern for coaches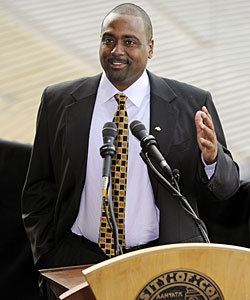 While those stories are atypical, there is a movement to offer younger prospects, a worrisome trend for some coaches.
Academic considerations aside, Shaw wants to develop relationships with prospects before throwing out offers and he doesn't feel offering that early is doing due diligence.
"That's rare for us," Shaw said. "We try not to offer a guy until we have an idea where his academic situation is and when the kid is a freshman in high school you have no idea. I'm all about not wasting time. We're not going to waste our time offering a great player if he can't get in to school.
"It's wasting his time and it's wasting our time. We have to have an idea where he stands academically and not to mention what kind of guys he is, what kind of person he is. We need to find that stuff out before we just throw offers out at people because we're about the whole package -- academic, football and the kind of person we want on our team, and I don't think you can do that with a 14-year-old kid."
There's no question, though, there are risks involved. Influences through high school could change everything. A player might have peaked early. Early offers could have slowed a recruit's drive.
Until National Signing Day, offers are non-binding, so either side can back out; but it's often bad public relations for college coaches to pull offers. Recruits sometimes develop bad reputations by not sticking by early commitments.
It's a touchy area, giving out offers and prospects committing so early, but it's the movement in football recruiting. That doesn't mean every coach needs to follow.
"If I'm not convinced I just won't do it. I have to feel like, yeah, this is a no-brainer. Because sometimes what happens, you offer these kids and all of a sudden two years from now they've peaked out and all of a sudden they're not as good and you have high school coaches saying, 'Wait a minute, you offered this kid.' You don't want to have to be going back and forth and pulling offers based on a kid's performance because you wanted to offer him as a sophomore."
The early offering might be a controversial issue for some coaches. But for Shaw, an early signing period would be much bigger -- something he said would not support.
With players receiving offers earlier and some making snap decisions, Shaw said even having the option for recruits to sign early could be disastrous for college football.
"These are 16-, 17- and sometimes 15-year-old kids, and in my opinion they need to push back their decisions," Shaw said. "What happens a lot is you hear guys commit and they de-commit and they commit someplace else and the day before signing day they change their mind again.
"Forcing a kid to lock into something before his 17th birthday is catastrophic to that young man and they're so easily influenced by what happens now as opposed to taking the long view.
"They need to take multiple trips, they need to see multiple places and make the best informed decision they can make, not the emotional decision that can happen in spring and then once you sign a piece of paper it's over and you can't change your mind. The signing day needs to stay where it is, and as long as these guys take it to the end it's good for them and good for college football."

[rl]