EA Sports, Rivals.com team up on NCAA 06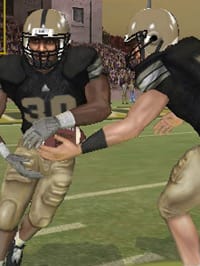 When the producers of EA Sports NCAA Football 06 began the process of reworking the soon-to-be-released edition of the popular video game, they had some grand ideas about taking the game to new heights.
A "Race for the Heisman" mode, enhanced TV-style presentation, the addition of impact players and a host of new gameplay improvements are all slated for the latest edition.
Another area in which the game's producers wanted to make improvements was in the recruiting aspect of the game's Dynasty Mode. With that goal in mind, EA Sports joined forces with Rivals.com, the nation's ultimate authority on college football recruiting, to make the recruiting experience associated with the game as real as possible.
On July 12, when NCAA Football 06 is released, the result of that collaboration will be part of a series of changes that are destined to make this year's version a hot commodity among college football and recruiting fans, as well as diehard gamers.
"We believe NCAA Football 06 is not only better than any previous versions of NCAA Football, but better than any other football game out there, period," said Tom Vuong, associate producer of NCAA Football 06, strong words considering the success of the game in recent years.
NCAA Football 2005 sold more than 1.5 million copies and was the No. 1 selling video game for PlayStation2 in July of 2004. The 2004 version of the game sold more than 1 million copies and was the No. 2 football game in terms of sales in North America, trailing only Madden NFL 2004, another EA Sports product.
The new recruiting aspects of Dynasty Mode are among the highlighted new features that will make for a better playing experience with NCAA Football 2006.
The biggest change to recruiting in the latest version of the game will be the addition of in-season recruiting. Users will now recruit high school prospects during the season, which will include official visits on the weekends of home games or bye weeks.
Users will begin to target players during the summer and then develop a recruiting strategy, determining the number of points they'd be willing to devote to each prospect. Bonus points will be awarded for having official visitors in for big home victories, with added points being awarded for a win against a major rival, helping users in their efforts to secure commitments from the top prospects.
Each prospect will start with interest in eight schools before limiting his list to five schools and then ultimately three. Prospects also can make "soft verbals" to schools, but then they still have the option to change their mind should they not continue to be actively recruited by that school.
As prospects begin limiting their choices, headlines reflecting those decisions will be generated, just as can be seen daily on Rivals.com throughout the year
"The in-season recruiting experience, although familiar, is a totally new game-within-a-game for our dedicated fans," Vuong said. "All of this is packaged neatly in our Rivals.com Recruiting feature."
Added Eddie Dorsey, NCAA Football 06 assistant producer, "It's very Rivalsesque. It allows those types of users who want to get in depth with it to do that. It's what you make of it."
Changes also have been made to offseason recruiting, where a school's academic reputation will play a factor in recruiting. Certain prospects will place a higher value on academics, making it difficult for some institutions to make the cut for those players' services.
Schools also run the risk of seeing their academic reputation slip if they only recruit the most talented players available, and there will be prospects who ultimately won't qualify academically. These are added features that make recruiting strategy a bigger part of the game.
Additionally, the ability to create recruiting pipelines has been established, enabling a school to increase its likelihood of recruiting success in areas where it has fared well in the past.
"We wanted to make it as in depth as possible for the guys like Eddie and I who read Rivals.com every day," Vuong said.
The process isn't the only aspect of recruiting that has changed for NCAA Football 06. In past years, there were tremendous numbers of highly rated prospects available to be recruited, but that too will be changing.
"We tried to base it on the Rivals100 (the organization's ranking of the nation's top 100 players) and limit the number of five-star and four-star players, like you would see on Rivals.com," Dorsey said. "We want it to feel like if you get a five-star player, it's really special."
As mentioned earlier, the recruiting features for NCAA Football 06 aren't the only changes that have been made.
The "Race for the Heisman" mode is among the biggest changes. The game begins with a user picking a position for a potential college standout and then navigating that player through a series of drills to determine their ranking as a college prospect.
The player then gets recruited by various schools. But do not fear, if the player's favorite school does not recruit him, he always has the option to walk on at that school.
From there, that player will head off to school as a freshman, complete with a dorm room assignment. His career path will take off from there, guided by the user with the hope of that player becoming one of the top players in college football before the end of his career.
A major change in gameplay is the Impact Player system, a new feature that allows each team to have a couple of players who will have the ability to make big plays in crucial situations. Those players, at certain times in the game where they would be expected to excel, will get a ratings boost that will allow them to deliver in the clutch.
"It identifies who the best players on the field are and allows them to impact the game the way they would in real life," said Dan Baker, EA Sports' line producer for NCAA Football 06.
Also improved this year are the game's presentation, which includes an ESPN-like studio, complete with hosts Brad Nessler, Lee Corso and Kirk Herbstreit.
Additionally, gang tackling was added, on-field mismatches will be easier to identify and the ball physics of the game have been dramatically improved to a more realistic look.
"Is the game going to play that much better than the previous version? That's what the diehard fans want to know," Baker said. "Gameplay was my number one focus this year, and I think people will love the improvements when we hit the store shelves in July. We concentrated on run blocking, improving the option play, receiver catching, ball physics, user control and more.
"Throw in right analog controls for the jukes, and the addition of the back juke and you have a running game that looks and feels awesome. We made a conscious effort to address many of the concerns that our hard core fans are looking for. And to top it all off, the game just looks phenomenal this year, as well as being incredibly fun to play."
Editor's note: To maintain editorial integrity, it should be noted that EA Sports and Rivals.com have a business relationship.