Durkin named Rivals.com Recruiter of Year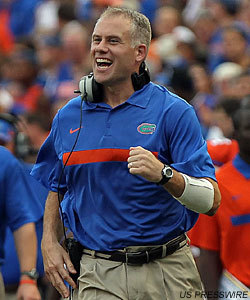 Florida
assistant coach
D.J. Durkin
landed arguably the best haul of prospects in the nation in 2012. The Gators' linebackers coach and special teams coordinator brought in seven top-tier prospects, including five Rivals250 prospects, from the 2012 class. That success on the recruiting trail resulted in Durkin being named the Rivals.com Recruiter of the Year for 2012.
Durkin, who has been on the Florida staff since January of 2010 after he departed Stanford, said that getting a prospect to opt for Florida is not a tough sell.
"I am very, very fortunate to be recruiting at a place like Florida because I think the place almost sells itself," Durkin said. "It is a great academic institution and there is obviously great football tradition here. We play in a great football stadium in the best conference in the world. I think the place really sells itself."
The Florida assistant says that finishing with the No. 3 recruiting class in the nation can largely be credited to his boss - Florida head coach
Will Muschamp
.
"When you have a head coach like Coach Muschamp, who does a great job with the players and has a great knowledge of the game and really recruits as hard as anyone, it makes my job kind of easy," Durkin said.
Among the prospects that Durkin played a major role in landing was Shelby (N.C.) Crest five-star defensive end
Jonathan Bullard
, Charlotte (N.C.) Mallard Creek five-star offensive tackle
D.J. Humphries
, Venice (Fla.) four-star defensive tackle
Dante Phillips
, and Clemmons (N.C.) West Forsyth three-star defensive end
Alex McCalister
, who will all play a big role in adding talent and depth along the offensive and defensive lines.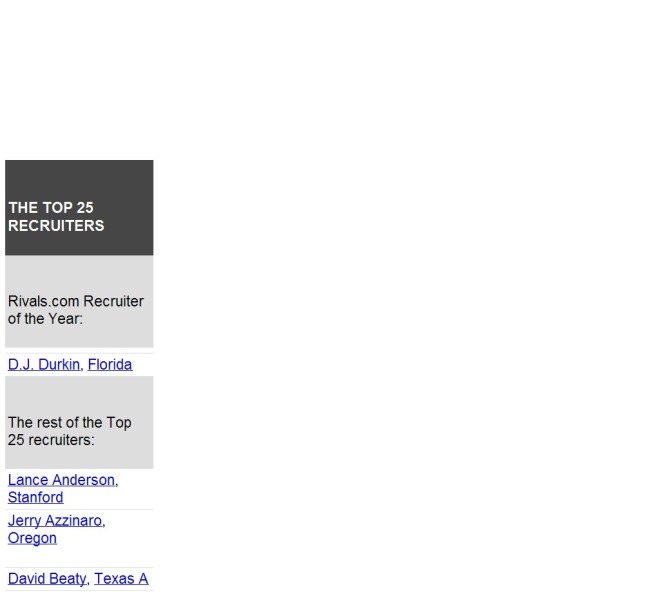 "We made a point this year that we needed to get better up-front on both sides of the ball," Durkin said. "I think that if you look at our class you can really see that we made an effort to get better there."
Humphries, who was joined by Boynton Beach (Fla.) four-star offensive lineman
Jessamen Dunker
in the class, is a prospect that Durkin and his fellow Florida coaches plan to build around up-front on offense.
"We definitely think he is just a great player," Durkin said. "Anyone that watches his film can see that. We feel that what makes him so special is that he is a great young man. What I mean by that is he is very determined, very mature, and very focused on what he wants to accomplish. I think that is a great combination, a great recipe, for early success in his career here. I think he is a guy that we can really build around."
On the defensive side of the ball, Bullard is the top prospect in the Gators' class. While Durkin was listed as his primary recruiter, the second-year Florida assistant says that sealing his signature was a team effort.
"One of the best parts about it is that our staff, we recruit all of these guys together, and when you look at Jon Bullard and how many guys were involved in that - just our whole defensive staff and Coach Muschamp - they all played a huge part in recruiting him and many other guys," Durkin said.
In addition to Humphries, Bullard, and McCallister, Florida also went to North Carolina to land three-star safety
Rhaheim Ledbetter
from Boiling Springs (N.C.) Crest. With those four commitments, Florida landed four of Rivals.com's top 14 prospects in North Carolina's 2012 class.
Durkin says that the Florida staff felt that it was a particularly good year in the Tar Heel State and they set their sights on making a dent in the state early on.
"We evaluate a lot of tape and try to pursue the best players out there," Durkin said. "It just happened that this year was really deep in North Carolina. There were a lot of good players there this year. I think there are always good football players in North Carolina, in most years, but there were several guys this year that we really liked. As a staff, we decided that we were really going to go after them."
Other prospects that opted for Florida due to Durkin, as well as his colleagues, included Rivals250 four-star cornerback
Brian Poole
of Bradenton (Fla.) Southeast and Rivals250 four-star linebacker
Jeremi Powell
of Largo (Fla.) Pinellas Park.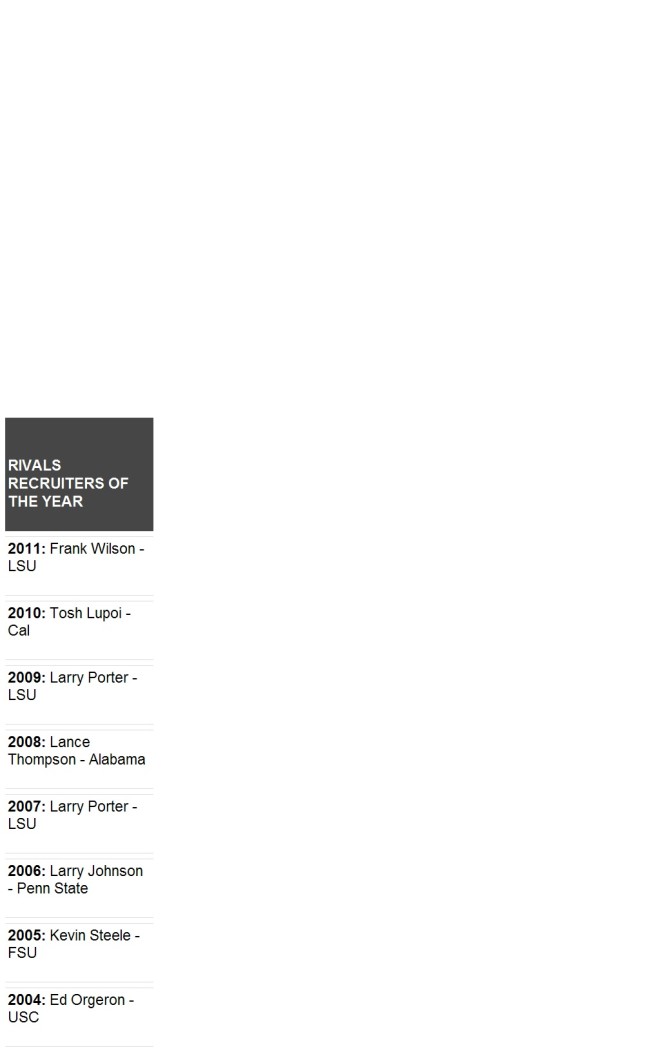 Durkin said the excitement felt by the Florida staff last Wednesday can only be described as jubilant. Due to his efforts, and those of the other assistants on the staff as well as Muschamp, the Gators feel they have put together a class that will help them return to national prominence and the ability to compete for league championships as well as national championships.
"No doubt," Durkin said. "When we looked at the class, we really felt like we answered, filled all of the holes that we needed to fill, and we got some great depth.
"We took a deep breath and looked at this class as one we are going to remember and build around," Durkin added.
And Durkin, the Rivals.com Recruiter of the Year for 2012, obviously played a huge role in putting it together.
"I think what Coach Durkin did, especially in the state of North Carolina, was especially impressive," said Rivals.com national recruiting analyst Mike Farrell. "Our National Recruiter of the Year has become a great honor and one that is coveted by coaches and can be a stepping stone for many. Coach Durkin is one of the rising stars in the recruiting world and very deserving of this honor."

Click
Here
to view this Link.
[rl]

Click
Here
to view this Link.