DT Solomon Wright finds the perfect fit at Texas Tech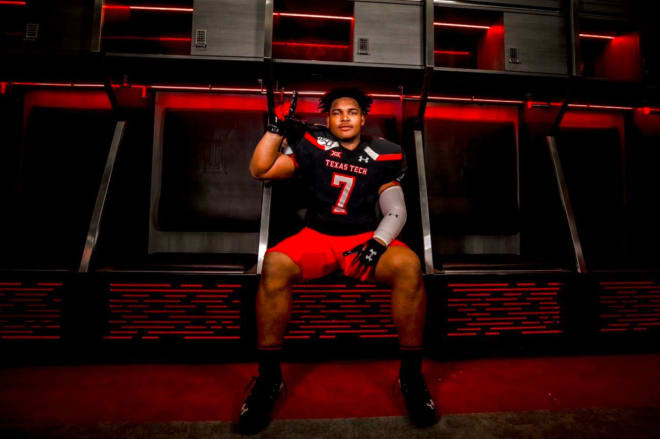 The Texas Tech coaches added another huge piece to its 2021 recruiting class when Vian (Okla.) defensive tackle Solomon Wright committed on Friday afternoon. Wright is the eighth 2021 commitment overall and third defensive lineman to pledge to the Red Raiders.
What you need to know...
... Wright first announced his offer from Tech on March 6th while on campus for an unofficial visit
... In total Wright held 12 offers at the time of his commitment including Big 12 programs Kansas, Iowa State and Oklahoma State
... As a junior, Wright totaled 124 tackles, 51 tackles for loss and 14 sacks
Texas Tech staff: "I went to Tech on my visit and it was unlike anywhere else that I'd been. Coach Wells, coach Patterson and coach Randolph, I could just tell they're real people, down to earth and that's just where I want to be."
Fit in the defense: "They like the way I play, they already have a nose guard up there who is similar to me right now. When he's done I'll come in to replace him. The way I play in their scheme it's just the best fit for me."
"I told the coaches I want to commit this morning. I called coach Wells and he was just screaming and excited."
— Solomon Wright
Relationship with other commits: "Yes, on my visit I talked to a few players and a couple of the commits. They all told me I wasn't going to find coaches like these anywhere else. From there I just kept my relationship going with coach Randolph and coach Wells and it was just the best fit for me."
Recruiting other players: "I'm gonna try to get my buddy Ty Williams up to Tech, he has like 20 offers. He lives close to me, I'll try to get him up there."
Advice from dad: Solomon's dad, Kenyatta Wright, was an All-Big 12 player at OSU and played five seasons in the NFL.
"He said to make my own path and that I don't have to live on his legacy."
Would still consider other schools if they asked him to visit? "No, my recruiting is over. I'm 100-percent with Texas Tech."
Goals heading into senior year: "I want to get the gold ball (Oklahoma high school championship) for sure. We made it to the championship last year and didn't get it, but my senior year we're gonna get it."
Currently rated a 5.5 three-star prospect, Wright is listed as the No. 12 overall prospect on the Rivals Oklahoma Top 15 for the 2021 class.