DT Langley holds offers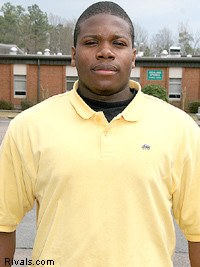 Defensive tackle
Donald Langley
out of Germantown (Md.) Seneca Valley is a fifth year senior that is staying an extra year to improve his college opportunities. The 6-foot-2, 267-pounder has already received two handwritten offers this spring. Who has Langley gotten offers from and does he have any early favorites?
"I've gotten written offers from Ball State and Temple while Marshall has given me a verbal," he said. "I like the offers I've already gotten and I'm getting a lot more interest from schools including Boston College, Maryland, Tennessee, Virginia, Penn State, Notre Dame and Alabama. Alabama looks to be very close to offering, they just want to see my transcript, while BC, Penn State and Notre Dame want me to come to camps before they offer.
"I'd say my favorites are Alabama, Virginia, Tennessee and Ball State. I like all of them just because of the locations. I want to be somewhere that I don't want to go back home. I don't want to leave the environment and they are all pretty prestigious programs with the exception of Ball State. Alabama and Tennessee are in the SEC and Virginia is in the ACC. I also like Penn State a lot, but I know they got a lot of defensive tackles last year in recruiting."
With the extra season of high school, Langley plans to graduate in December.
"I'm doing this fifth year thing and it has already been cleared by the NCAA clearinghouse," he said. "I'm going to go through the football season and get my diploma and attend wherever I decide in January so that I can be there for spring ball. With that in mind, I'm personally trying to make my decision before the start of the season."
The defensive tackle prospect is working hard this spring and summer in football and the classroom.
"I'm working with a personal trainer six days a week to improve on my speed training and weight lifting," he said. "I'm also focusing on school taking summer and night classes. My grades last year weren't the greatest, but over the past two semesters I've really improved and am up to a 3.0 GPA."
Langley plans to attend the Nike Camp at Penn State in May.
He is looking to go to summer camps at Notre Dame, Maryland, Virginia and possibly Alabama.
Last season Langley earned first team all-league, all-Journal, all-Gazette, honorable mention all-metro, all-county and second team all-state. He finished the year with 48 tackles, six for loss and four sacks.