Downs, Crowder set to decide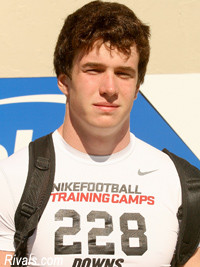 Bristol (Tenn.) Tennessee tight end
Brendan Downs
committed in March to Duke. Now, the 6-foot-6, 224-pounder is having second thoughts and plans to solidify his decision between two schools on Friday.
"I'm planning to announce a decision between Duke and Tennessee on Friday around two or three in the afternoon," he said. "My teammate
Mack Crowder
is announcing at the same time.
"I'm looking at the possibility of Tennessee. I've visited there three times total and I was there last weekend with Mack."
Downs discussed the trip to Tennessee and the situation right now.
"It was a really good visit," he said. "It wasn't the first time I had been there. I've seen everything and I was there with just four other recruits.
"I just never thought at the time I committed to Duke that Tennessee would come after me. Then, they were going through all these coaching changes. I liked all the coaches and have always been a fan of Tennessee."
Meanwhile, what's his status with Duke?
"I talked to the coaches there yesterday," he said. "I told them I was considering changing and they understood."