Dorsey dominator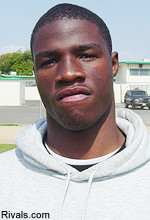 There is no question that running back/defensive back
Stafon Johnson
(6-1, 210, 4.4) from Los Angeles (Calif.) Dorsey is one of the best players in the Golden State if not the nation. Johnson has the talent to be an impact player on either side of the ball.
Johnson has been officially offered from USC and Dorsey high school defensive coordinator Ralph Caldwell told Rivals.com that USC coach Pete Carroll called to make it official.
For those of us in Los Angeles who saw Johnson's hit in the City Championship game know what he can do on the defensive side of the ball. He can deliver the knockout punch.
As a running back Johnson has few peers. Johnson's versatility is only one reason why he is such a valuable commodity for the class of 2006.
According to Caldwell, Johnson has grown an inch and has gained 20 pounds since last fall without losing a step. He recently was timed in the 100-meter in 10.6.
For his junior season Johnson rushed for 1,839 on 213 carries while averaging 8.6 yards per carry and 17 touchdowns. His performance saw him earn 2004 Los Angeles City Offensive Player of the Year, all-city, all-conference and named to the Los Angeles Times all-star team.
Dorsey defensive coordinator Ralph Caldwell is filled with praise for his outstanding two-way standout.
"Stafon is one of those special guys that comes along once every 15 years or so," Caldwell said. "Like Herschel Walker or Bo Jackson he's just one of those guys that come along and do special things that's Stafon, plus he's a great kid."
USC's cross town rival UCLA has also thrown their hat into the ring with an offer. According to Caldwell, Ohio State, Miami and LSU have also offered his talented football player.
Another thing to love about Johnson is the fact that he is already fully qualified and passed his SAT before his junior season with 890 SAT.