Did Florida visit sway Worthington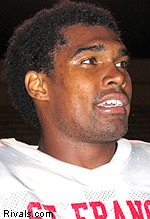 Athol Springs (N.Y.) St. Francis defensive end
Doug Worthington
took an official visit to Florida this past weekend despite being a soft commitment to Ohio State. Did the Gators do anything to sway the 6-foot-7, 256-pounder?
"Florida was a great trip and coach Mattison is a great guy," said Worthington. "Coach Meyer is a great guy as well and that's not just lip service, I liked them both a lot. I wanted to head down to Florida to see if I fit in there and I think I would.
"The depth chart situation isn't great and it's Florida so they'll have a guy just like me next year and probably had one just like me last year. That's not really an issue. The bottom line is that I liked Florida, I like all the places I've visited, but I'm Ohio State all the way. I'm taking my visits just in case because I don't want to get caught unprepared in case anything happens with OSU, but as long as they start out of trouble before Feb. 2, I'll be a Buckeye."
Worthington was set to take his final official visit this weekend to Boston College, but that has been delayed.
"I want to catch up on my homework and a lot of the things I have due are on Friday and Monday so I'm not going anywhere this weekend," he said. "I'll take my last visit on Jan. 28 and it will be to either Penn State, Notre Dame or BC. My mom wants me to go to Notre Dame for the visit and my dad said I've already been to PSU and BC so I might as well see Notre Dame, but I'm not sure yet."
Worthington is ranked as the No. 72 player overall and No. 5 strongside defensive end in the country.