Despite reports, Pryor still may not sign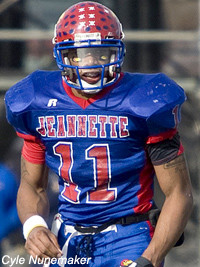 Other media outlets reported Monday that Pryor was 80-90 percent sure he would sign on Wednesday and that he had eliminated Oregon. But according to Farrell, nothing has changed with Pryor. The quarterback from Jeanette, Pa., said he has no definite plans to sign with anyone on Wednesday.
"I spoke to Pryor, and he said the report was incorrect," Farrell said. "He said was still 50/50 whether he'd sign or not, and Oregon is not eliminated. He said it's still Ohio State, Michigan and Penn State if he signs Wednesday, and Oregon is in the mix if he waits."
Ohio State has long been at or near the top of Pryor's list, while Michigan got into the mix when Rodriguez was hired away from West Virginia.
[rl]