Derrick Harvey wants early PT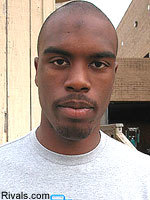 Greenbelt (Md.) Eleanor Roosevelt defensive end
Derrick Harvey
is looking for many things in a school. One important factor will be early playing time.
"Derrick is a smart kid and he is carefully looking at depth charts and things like that to see how he would fit in," said Roosevelt head coach Rick Houchens of his 6-foot-5, 235-pound star. "That's why he dropped Miami, because they told him he wouldn't be able to compete for a spot for a couple of years because they have so many young linemen. He appreciated the honesty and thanked them, but he's really interested in competing now."
Harvey has already taken an official visit to Maryland and has at least three more to take, with a fourth possible.
"He goes to Ohio State on Jan. 9, Florida on Jan. 16 and Tennessee on Jan. 23," said Houchens. "If he needs a fifth visit, it will likely be to Virginia on Jan. 30."
So who leads?
"He really liked his visit to Maryland and his teammates and friends, Tre Covington and Jared Gaither are going there, but he's not sold on anyone yet," said Houchens. "He's looking for a school that needs pass rushers and he likes a three-man defensive line because he should top out around 270 pounds or so and could play that scheme well. OSU and Tennessee need pass rushers, as does Maryland and Florida is a great program. He's also been impressed with the way Virginia has been recruiting him, but they're a little behind."
Harvey, who had 31 sacks as a senior, will decide late in the process.
"I told him to take his time, take his visits and make a smart choice," said Houchens. "He only gets to do this once, so he has to be smart about it. Maryland really wants him badly and let him know that on his visit, but I told them they might want to ease up a little bit on him. He started feeling the pressure a bit and he doesn't respond to that kind of recruiting very well."