Derrick Harvey ready for big day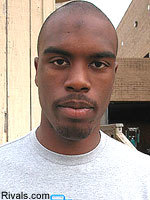 Greenbelt (Md.) Eleanor Roosevelt defensive end
Derrick Harvey
is excited for two reasons. First, he gets to announce his decision in front of a national television audience on ESPN (also simulcast on ESPNews) between 4-5PM EST today. Second, the recruiting process will be over.
"It's been a rough couple of months," said the 6-foot-5, 235-pounder. "I've switched my phone number a few times already and the phone still rings like crazy. It's been pretty hectic, but it will all be worth it in the end."
Harvey will choose between Maryland, Florida, Ohio State and Tennessee Tuesday on national television. He knows where he's going, but everyone will have to wait to find out.
"You only go through this process once, so to get a chance to be on national television telling everyone where you're going is hard to pass up," he said. "I'm excited about it. All the schools I visited and all the coaches I met, I liked them all. This has not been an easy decision at all."
Derrick, his coach Rick Houchens, his family, some friends and teammate Derrick Williams (Rivals.com Junior of the Year who might also be featured on ESPN) will all be heading down to the ESPN SportsZone in Washington, D.C. Tuesday around 1:30PM.
"We'll get there early," said coach Houchens. "This is a big deal for both Derricks and for our program. It's not often you get the No. 8 player in the country to announce his decision on TV and the No. 1 player for 2005 happens to be on the same team. It's an exciting time for our program."