Defenses set to dominate ACC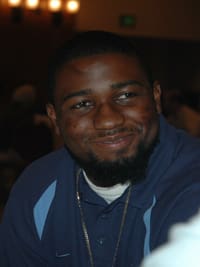 Click
Here
to view this Link.Football fans who crave offensive shootouts may have a tough time watching ACC games this fall. The new 12-team league might produce a lot of drama, but it appears there also will be an extraordinary number of low-scoring games.
Eight programs finished among the top 30 in the nation in total defense last season: N.C. State (No. 1), Virginia Tech (No. 4), Florida State (No. 7), Georgia Tech (No. 12), Virginia (No. 19), Maryland (No. 21), Clemson (No. 26) and Miami (No. 28). New member Boston College checked in at No. 31.
Most of those teams return the bulk of those defensive units, and no other league boasts a better or more intimidating group of linebackers. Florida State's A.J. Nicholson and Ernie Sims, Georgia Tech's Gerris Wilkinson, Maryland's D'QWell Jackson and Virginia's Ahmad Brooks and Kai Parham all appear to have a strong shot at All-America honors.
Consider that the league is also severely lacking quality quarterbacks – Clemson's Charlie Whitehurst was named the preseason All-ACC quarterback despite throwing 17 interceptions and seven touchdown passes last season – and it appears plausible that the defenses will dominate even more in 2005.
But regardless of how the defenses perform, this will be a historic season in the conference. For the first time, the ACC is splitting into two divisions, the Atlantic Division and the Coastal Division, and there will be a league title game in Jacksonville, Fla., on Dec. 3.
Will that format create a better chance of an ACC program receiving an at-large BCS bowl bid? Will it hurt someone's national title hopes? Can it produce a true league champ? All of those questions will make for an intriguing regular season.
THE FAVORITE: Virginia Tech
One of the biggest surprises of 2004 was the Hokies capturing the ACC title in their first season as a member of the league. Perceptions have changed greatly as a result. Picked to finish sixth a year ago, now they are expected to repeat as ACC champs.
There is a lot of experience on both sides of the ball with 14 returning starters (eight on offense and six on defense) and a handful of stars back. Virginia Tech landed a league-high four players on the preseason All-ACC team with tight end Jeff King, offensive guard Will Montgomery, defensive end Darryl Tapp and cornerback Jimmy Williams.
The schedule also is much easier. Boston College and Miami – two of the other top teams in the league – will be traveling to Lane Stadium – and nonconference games with Ohio, Marshall and West Virginia shouldn't present much of a problem.
If quarterback Marcus Vick can live up to half of the hype surrounding him, the Hokies could land in their second national title game in seven years.
THE SLEEPER: N.C. State
Don't be shocked if the Wolfpack land in Jacksonville, Fla., for the ACC's first title game. Last year, Chuck Amato's team was a couple of lucky bounces away from being a real contender in the league. The Wolfpack boasted the nation's No. 1 overall defense, out-gained every team it played, lost four games by eight points or less and were the only team in the ACC to beat Virginia Tech.
All four defensive linemen return, including All-America candidates Mario Williams and Manny Lawson and the offensive line looks very strong. The out-of-conference schedule is also much weaker with games against Division I-AA Eastern Kentucky, Southern Miss and Middle Tennessee State. If quarterback Jay Davis can make significant improvement, the 'Pack will prove it is for real.
PROGRAM ON THE RISE: Boston College
The Eagles picked the right time to join the ACC. Seventeen starters return from a team that was a shocking Syracuse loss away from heading to a BCS game, and the Eagles are the only ACC team to return all five offensive linemen. Star defensive end Mathias Kiwanuka was tabbed the ACC's Preseason Defensive Player of the Year and receiver/cornerback Will Blackmon is one of the nation's top kick returners.
Several ACC writers think winning the Atlantic Division is a strong possibility, as the Eagles garnered 24 first-place votes in the media poll. The future beyond this year also looks more appealing. With the switch in leagues, the Eagles will be earning more money and should be able to recruit in some of the nation's richest areas of talent.
PROGRAM ON THE SLIDE: Georgia Tech
It wasn't that long ago that the Jackets were the annual pick to give Florida State problems. Now, they can't seem to escape mediocrity or the middle of the ACC standings.
Coach Chan Gailey has produced three straight 7-win seasons since taking over in 2002. George O'Leary won eight or more in each of his last four seasons in Atlanta. Recruiting problems may lead to another coaching switch. The Jackets missed out on a lot of top in-state targets from the class of 2005 and their 19-man class, which included just six prospects from talent-rich Georgia, was ranked No. 62 nationally and near the bottom of the ACC.
TOUGHEST SCHEDULE: North Carolina
The Tar Heels schedule was ranked the second toughest in the nation last season. This fall, it will be even tougher. The 11 opponents combined to go 87-43 last season and three finished ranked in the top 10.
Instead of facing a Division I-AA opponent like William & Mary, the Heels will face Wisconsin. There are also rematches with Utah and Louisville and they must travel to Miami and Virginia Tech.
MARK YOUR CALENDAR: Miami at Virginia Tech, Nov. 5
The Miami-Florida State game kicks off the ACC season and will have a bigger spotlight, but the matchup of the former Big East powers could end up deciding the ACC title again.
This is also one of the more underrated rivalries in college football. The Hurricanes normally have little trouble on the road but have lost two of their last three games in Blacksburg, Va., and will be looking for revenge after last season's crucial 16-10 loss to the Hokies in the Orange Bowl.
UPSET SPECIAL: Wake Forest over Boston College, Oct. 8
Nobody in the ACC knows the Eagles' personnel better than Demon Deacons coach Jim Grobe and his staff. The two teams have faced each other in each of the last two years and Deacs emerged with 32-28 and 17-14 wins.
Expect the later performance to repeat itself in Chestnut Hill, Mass., this fall. The Eagles, who will be favored once again, could be looking ahead to a big Thursday night game against Virginia Tech less than two weeks later.
REMEMBER THIS NAME: Quinton Porter (Boston College)
Most ACC fans don't know who Porter is, but Eagles fans haven't forgotten the quarterback. A starter in 2003, he went on a productive run before being redshirted last season.
The 6-foot-5, 233-pound senior will be BC's starting quarterback again, and with several weapons to work with, including Blackmon, he could instantly be one of the top signal callers in the ACC. Look for him to have a big season and carry the Eagles to a Jan. 1 bowl game.
Other names to watch: Jesse Holley (North Carolina), Marcus Vick (Virginia Tech), Kyle Wright (Miami).
INSTANT IMPACT: Toney Baker (N.C. State)
Few incoming freshmen are more prepared for their first college season than this 5-10, 225-pound running back, who was one of only two players to ever rush for more than 10,000 yards in his prep career.
An avid weight lifter, he has a body that is more impressive than the rest of the N.C. State's running backs already, and he has the explosion and vision to make big plays at this level right now.
Other names to watch: James Davis (Clemson), Macho Harris (Virginia Tech), Vince Oghobaase (Duke), Fred Rouse (Florida State).
PREDICTED ORDER OF FINISH:
ATLANTIC
1. Florida State
2. Boston College
3. N.C. State
4. Clemson
5. Maryland
6. Wake Forest
COASTAL
1. Virginia Tech
2. Miami
3. Virginia
4. Georgia Tech
5. North Carolina
6. Duke
CHAMPION: Virginia Tech