Daniels previews two trips this month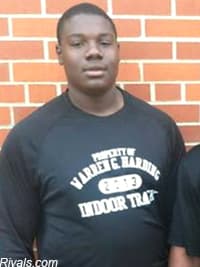 Warren (Ohio) Harding's
James Daniels
is the No. 3 ranked offensive center in the 2015 class, and his offer list reflects that ranking. He will see two schools that have offered later this month.
"I am going to Auburn March 28 and I am going up to Ohio State March 22," Daniels reported.
Ohio State's recruitment of Daniels is not surprising, seeing as his father played offensive line for the Buckeyes. Daniels is now in the process of building his own relationship with Ohio Sate.
"I have a good relationship with the coaches," Daniels said. "I talked to Coach [Urban] Meyer on the phone last week. He asked me what I wanted to major in and I said I wanted to do something in medical. He was talking to me about the Ohio State medical school."
Daniels expects to check out the medical school when he is on campus later this month, also plans to take in a spring practice.
"I have never been to a spring practice and I want to see how the coaches coach," Daniels said. "I will look at the offensive line and the way Coach [Ed] Warinner is coaching, because he is the one who'd be coaching me."
There is not the same level of connection between Daniels and Auburn, but the Tigers offered him last month and he is excited to check out their program.
"This will be my first trip down there," Daniels said. "It seems like it is a nice school to be at. I did some research on-line about the campus and the facilities and it seems like a nice place to be."
Daniels has spent the last month since they offered building a relationship with the coaching staff at Auburn.
"I talk to the o-line coach, Coach [J.B.] Grimes, and the offensive coordinator, [Rhett] Lashlee," Daniels said. "I talk to them on Twitter a lot and I have a good relationship with them."
Daniels is starting to sift through his list of offers and determine which schools could be his top contenders. These upcoming visits should help him decide where Ohio State and Auburn rank on that list.