Daniels closing in on decision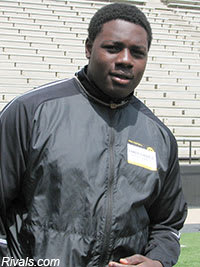 Warren (Ohio) Harding offensive center
James Daniels
has been targeting a summer decision, but the three-star has one more visits he wants to take first.
"I want to visit Alabama, and that will probably be my last visit," Daniels said. "If I get a chance to visit Alabama before July ends, I'll probably be able to make the decision."
Alabama is one of the more recent schools to join Daniels' offer list, coming through in May. The Ohio native has several aspects of the program he would like to evaluate in-person.
"I know all about the success of the program and how they get offensive linemen to the League," Daniels said. "My main question is, how the academic support there is and how they set football players up once they graduate so they can get a decent job."
Daniels said he does not have a distinct group of finalists at this time, but two Big Ten schools he has connections to are definitely in the mix.
"I get messages and mail from the coaches at Ohio State and Iowa pretty much every day," Daniels said.
Daniels' father played for the Buckeyes, while his brother,
LeShun Daniels
, currently plays for the Hawkeyes. The last time he visited Ohio State was in March, but he continues to hold them in high regard.
"It is going good (with Ohio State)," Daniels said. "The last time I visited there the main thing they talked about was this program called 'Real Life Wednesdays,' that helps set them up for careers."
Having a brother currently playing college football gives Daniels a unique insight to the life of a student-athlete, but could play positively or negatively in Iowa's recruitment of the nation's No. 4 ranked center.
"It could be a little bit of both," Daniels said. "He pretty much tells me how college football is not what it really seems. When people think about college football they think of all the lights and glory, and that it's pretty much not that. It's a lot of hard work and a lot of tough hours."
The 6-foot-4, 275-pound Daniels has also visited Auburn, West Virginia, Wisconsin and others during his recruitment.