Daily Dozen: Mike Vick NPA Camp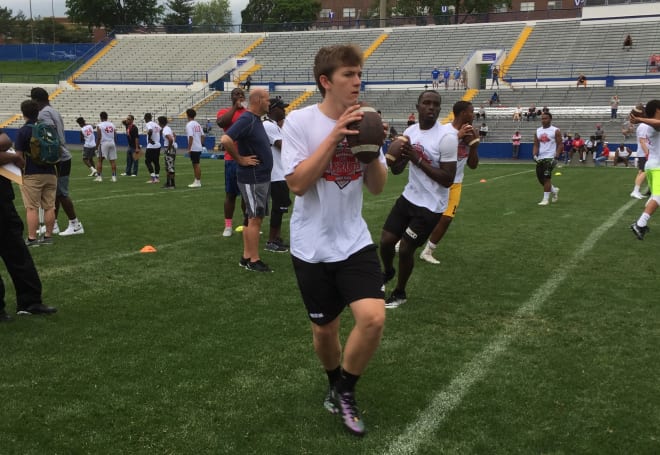 NASHVILLE – Sunday's Mike Vick NPA Camp attracted talent from multiple states to the Music City over the weekend. The event allowed top prospects to match up with each other and the competition level didn't disappoint. Below are some of the top performances from the event.
Recruiting wrap: Davis is committed to Alabama
Performance: Davis was the most dominant player at the event. He certainly looks the part of an elite college prospect and didn't lose a one-on-one rep all afternoon. He could stand to add some muscle but that won't be an issue. His length, speed and power make him a force.
Recruiting wrap: A 2020 prospect, Harrison has a long list of offers. Miami, Alabama, Florida, LSU and many others are involved.
Performance: A young prospect, Bailey continues to develop and showcased the best arm of any quarterback at the event. Bailey took as many reps as any prospect at the camp in the event's early going but pulled back once it began to rain. He projects as one of the top prospects in his class.
Recruiting wrap: South Carolina, Oregon, Ole Miss, Tennessee and others are in the mix to land Warren.
Performance: Warren is all of 6-foot-5 and claims to be 6-foot-6, which he very well could be. He moves well for a player of his size as well. On Sunday, he gave defenders trouble with his size and strong hangs. He went up and got a couple of jump balls, but made his mark on intermediate routes over the middle.
Recruiting wrap: Izuchukwu names no favorite in the process but has offers from a number of traditional powers, including Alabama, Ohio State, Auburn, LSU and Tennessee.
Performance: Just a sophomore, Izuchukwu needs to add size and develop as a football player but his upside is undeniable. He's a bit slight, but used his long arms well on rip moves during one-on-one work. Originally from Nigeria, Izuchukwu is a bit of a project, but he's a project that could pay massive dividends when it's complete.
Recruiting wrap: Akporoghene holds offers from South Carolina, Memphis, West Virginia and others.
Performance: Akporoghene looked impressive in limited reps against much older prospects and dominated the players in his own age range. His upside is high, as he's already developed a nice technique to go along with his wide base and massive build.
Recruiting wrap: Thompson has a long list of offers and names no leader. He hopes to visit Nebraska in the near future.
Performance: Thompson made the trip from St. Louis and got his money's worth at the camp by impressive all who watched him work. He has incredible power and used it to toss his opponents aside during one-on-one drills. A Rivals250 prospect, Thompson has light feet for a player pushing 300 pounds.
Recruiting wrap: Counts is awaiting his first offer.
Performance: Counts was the day's most impressive surprise. A relative unknown with no offers, Counts was a bully during one-on-one work. He was one of the most effective interior linemen at the event and boasts decent size. As he continues to reshape his body, he could find himself developing into a solid prospect at guard.
Recruiting wrap: Mustapha, a native of Nigeria, says he is in the midst of visa issues but is hopeful to play next season at New Mexico Military Institute should his issues get resolved.
Performance: A junior college prospect. Mustapha was more physically developed than most players at the camp. He boasts a college-ready frame and a quick first step. He has played football for less than three years and is still developing skill. His ceiling is sky high.
Recruiting wrap: Trice has a number of offers. Purdue is his only Power Five Conference opportunity.
Performance: Trice's defining trait is his length. He'll likely play safety in college but he covered like a cornerback on Sunday. He recovers well when he yields a step, as he's skilled in using his height to his advantage.
Recruiting wrap: Nash's lone offer is from Tennessee.
Performance: Nash has a nice burst and decent height. He ran a number of deep routes during one-on-one work and caught the ball effortlessly. He cramped up a bit late in the afternoon, but he flashed his potential early and often on Sunday.
Recruiting wrap: A 2020 prospect, Tucker has early offers from Alabama, LSU, Ole Miss, Tennessee and Mississippi State.
Performance: Tucker impressed in early drills and moves well for his size. He will reshape in the years ahead and projects to be a special prospect. Tucker, who was hot and cold during one-on-one work, could also add height in the year ahead.
Recruiting wrap: Neal is awaiting his first offer
Performance: Neal jammed receivers at the line on Sunday and used his power to his advantage in coverage. He'll shine as a safety but the danger of him growing into a linebacker exists. Nash moves well laterally and has some versatility to his game.