Crawford starts to focus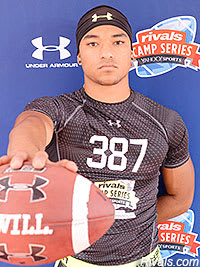 Dylan Crawford
has a lot of major offers but there is particularly one he is still waiting for. If Oregon comes, then the four-star receiver would take serious interest.
Even without an offer, the Rancho Santa Margarita (Calif.) Santa Margarita Catholic standout still is hoping to visit this summer.
"I'm trying to get up to Oregon," Crawford said. "I'm trying to talk to the coaches, I'm trying to schedule a visit but they really haven't contacted me back yet.
"I just loved it when I was up there. I can see myself playing there. I really feel like that's a school where I can excel and do what I like to do and I know it would fit me well."
Crawford is focused on some programs but still has not released a top list of schools. As for an official visit, he said Miami will get one for sure. Others are bound to happen as well.
"I haven't gone out there so I want to check it out for sure," Crawford said.
The four-star receiver is also high on the two local programs with UCLA inching ahead of USC in his recruitment. Unofficial trips to those two schools could be coming up.
"I'm obviously going to go back to USC and UCLA, keep going back," Crawford said. "I haven't been there in a while so it will be good to go back. USC is still recruiting me hard, still wants me at receiver. UCLA likes me more as an athlete. It's still UCLA over USC right now."
Then there is Stanford. The Cardinal intrigued Crawford for some time and it really got serious once close friend and Santa Margarita teammate K.J. Costello committed there. That could play a big role in Crawford's recruitment.
"Stanford is definitely in the running," Crawford said. "They're probably coming the hardest. They're a little short on the depth chart at receiver right now so they're looking for a playmaker."