Corley schedules first official visit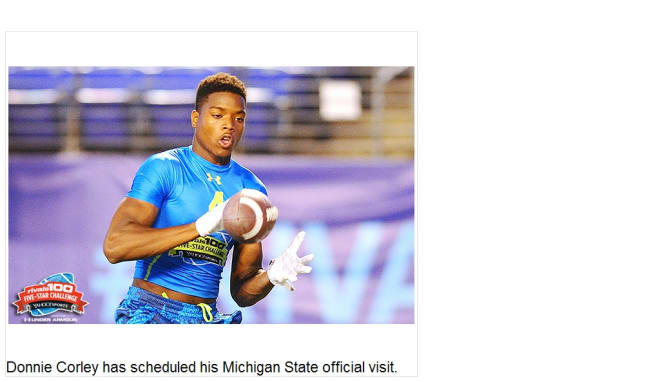 A decision from Rivals100 wide receiver
Donnie Corley
of Detroit (Mich.) King was expected to come during the month of July. That time came and went, however, and Corley made the decision to push back his commitment to a time after he could take a few official visits. The first of those official visits has now been set.
WHAT'S NEXT:
Corley's father informed Rivals.com that the Sept. 12 official visit date with
Michigan State
is confirmed. Other official visits are being discussed with several schools, but have not been scheduled. Earlier in the summer Corley had suggested a Sept. 4 date to officially visit
LSU
. That trip could still happen, but has not been locked in yet.
OTHER CONTENDERS:
Corley's list has expanded since the beginning of July. He made visits to
Michigan
,
Ohio State
and
West Virginia
over the last month and each of those schools are being considered.
Georgia
and
Tennessee
are also in contention to receive official visits from Corley.
RIVALS' REACTION: A decision had been planned for July 10 and Corley was expected to choose Michigan State had that gone through. Once he postponed, however, the tone of this recruitment changed and the Spartans seemed to fall back to the pack. Today's news should serve as a reminder that Michigan State is still very much in the thick of this race and could still be considered the team to beat. It does not appear that a decision is close at hand, though, and there is still a lot of recruiting yet to be done.