Corley details enrollment plans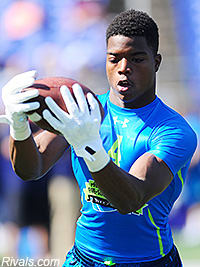 "I have to finish this English class to graduate early," Corley said. "If I finish that I will make a decision soon, but if I don't I'll just have to wait it out. I will probably finish (the class) during the break. I would definitely enroll early if I finish."
"If the graduating early thing comes up, it will probably be (one of) those three schools because that's where I took my officials to and that's where I'm most comfortable with," Corley said.
"I am actually not 100 percent ready to make a decision, but I will probably make it to the school I am closest to (deciding for) at the time. Just when I get the okay, I will probably tweet it out soon (after)."
The official visit to Ohio State was Corley's most recent, taking place the weekend of Dec. 12.
Once on campus, Corley connected with a pair of Detroit natives who showed the four-star receiver around Columbus.
"I met him at The Opening and talked to him for a minute," Corley said. "(During the visit) we talked about possibly making plays together. From what I have seen, he can throw the ball pretty good. That's one thing about trying to pick a school is them having a good quarterback, so I'm trying to see what he does. That could change things."
"I like a lot about what they have been doing lately," Corley said of Michigan. "Just the development of the players, they have been winning and they can get you to the League for sure because they have coaches from the League, so they know what they are looking for at the next level."
The 6-foot-2, 187-pound Corley is coming off a tremendous senior season that saw Detroit King finish 14-0 and Division 2 state champions. Corley caught a 39-yard touchdown with no time remaining on the clock to secure King's state title, and finished his senior season with 59 catches for 1,408 yards and 16 touchdowns.