Connecticut suddenly producing talent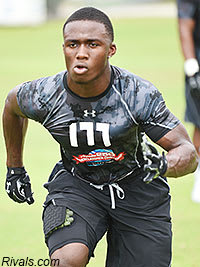 High school programs such as Cass Tech, Long Beach Poly , St. Thomas Aquinas and Don Bosco Prep are all very familiar to recruiting followers, but how about Cheshire Academy, Kingswood-Oxford, St. Luke's, Suffield Academy and Avon Old Farms?
Sure, they may not produce as many top-end football recruits as some more recognized national football powers, but this group of Connecticut schools in the NEPSAC (New England Preparatory School Athletic Council) has started to make a great deal of recruiting noise.
Some of the prep schools, many of which are also boarding schools, have also begun to tap into the New York City area. This is an area that is still mostly known for basketball, but has begun to produce more and more gridiron talent. Others also believe that the talent in Connecticut has improved in recent years.
As the production level of the athletes at these schools has continued to improve, college coaches have begun to flock to Connecticut.
"The flow of traffic recently has been phenomenal," said Cheshire Academy coach David Dykeman. "It is not uncommon to see five or six schools a day during recruiting (periods)."
Black does not think that attending a Connecticut prep school puts him at a disadvantage. In fact, he believes that he can compete with the country's best.
"I just don't like how people say that athletes in the Northeast aren't as good as the ones down South," said Black, who grew up in Hamden, Conn. "Some of us can compete and beat guys down South. I believe it doesn't matter where you come from. I compete against them with a little more anger because I know they might be underestimating me."
Rivals.com National Recruiting Director Mike Farrell, a Connecticut resident for most of his life, has been stunned by the level of talent in the state.
Werner, who went to Salisbury, started as a sophomore and junior for the Seminoles before being selected in the first round of the NFL Draft.
The high academic standards set by the Connecticut prep schools make Quansah believe that he will have an advantage over other recruits in college.
"It helps me in the long run by serving as a characteristic that sets me apart from other players," he said. "Because it means that I was also a scholar and coaches wouldn't have to worry about me getting into the school or having trouble in class because of how rigorous our academics are."
Even in his three years at Kingswood-Oxford, Quansah has noticed an influx of talent in the league.
"I've noticed better play because more public school kids are transferring to prep or other kids are boarding from other states," he said. "I've also noticed better play because some teams in our league dropped us, so we always go find better competition by playing teams in the higher leagues. They are higher because they're a boarding school and have post grads."
Will this uptick in talent continue?
"My guess is that Connecticut prep school football will continue to rise up," Thomas said. "We're extremely excited to put our brand of football on the map. The coaches, players and families are all in."