Commitment Breakdown: Three-star TN DT Kristian Williams commits to Oregon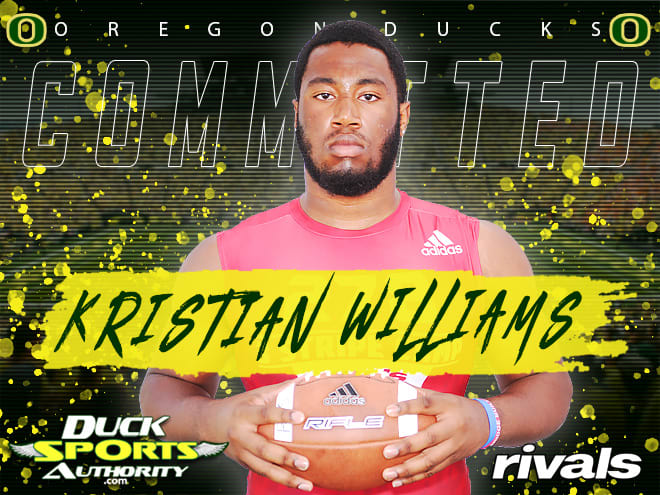 THE SITUATION
Oregon added one of the final pieces to its 2019 recruiting class when three-star Memphis, Tenn. defensive tackle Kristian Williams committed to the Ducks on Wednesday morning. The official commitment and signature to follow was the culmination of whirlwind courtship between Williams and the Ducks over the past month. Williams, whose recruitment included an eclectic list of options from Indiana to Minnesota to Memphis, committed to the Gophers in December before backing off his longtime pledge earlier this week with the intention to commit to Oregon clearly on his mind.
WHY IT'S BIG FOR OREGON
The Ducks continue to add size to both sides of the ball under Mario Cristobal, a priority that has impacted the team's success in his short tenure as head coach. Williams is viewed by the Ducks coaches as a potential impact player who has the opportunity to thrive in the Pac-12. Much like Jordon Scott, the undersized defensive tackle who signed with the Ducks in the Class of 2017 and went on to become a freshman All-American, Williams was slow-played by many SEC schools and Oregon is hoping that their mistake on passing on Williams turns out to be a major gain for their program. Williams is yet another prospect from the Southeast that is headed to the Northwest, a trend that should be encouraging for Ducks fans.
WHY IT HURTS FOR MINNESOTA, INDIANA and MEMPHIS
Williams was a major addition of Minnesota in December and even though he didn't sign during the Early Signing Period, the Gophers fully expected to hang onto his commitment until he made things official in February. What couldn't be foreseen is the amount of new attention Williams would receive as defensive linemen became a major priority for several Power Five schools, including Oregon. Ultimately, losing out in a battle to Oregon isn't something for Minnesota to be discouraged about, but losing Williams hurts nonetheless. Indiana is starting to have success in Memphis, as evidenced by the signature of offensive lineman William Bedford in December, but couldn't find the same magic with Williams. Memphis made a strong push for Williams, but lost out in the end to a Power Five program, which is nothing new for the Tigers.