Commitment breakdown: Rivals250 RB Damari Alston picks Auburn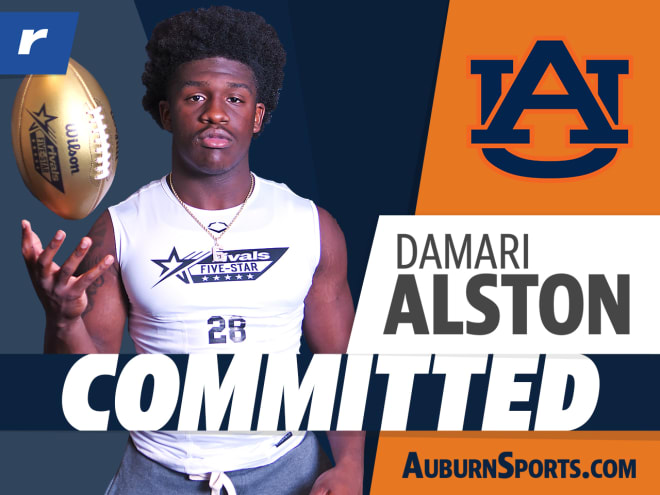 Running back Damari Alston has been a well known prospect for years in the state of Georgia but he's headed out of state for college. The Woodward Academy product wasn't shy about hitting the recruiting trail throughout the process, taking seemingly dozens of visits despite the pandemic shutting down official and unofficial visits. June was especially busy for Alston as he took three official visits and multiple unofficial visits throughout the month to see his top contenders.
While he didn't officially narrow down his list until just a couple weeks ago, teams like Georgia Tech, Alabama, Tennessee, Florida, North Carolina, and many others were in the mix. Auburn, Northwestern, and LSU were singled out as his three finalists, but he ended up choosing Auburn.
WHAT THE TIGERS ARE GETTING
Alston is a strong, compact, and explosive running back that has a good sense of awareness when running in open space and the vision to find running lanes between the tackles. He's going to be helpful in the passing game as well. His toughness helps him as a run blocker but he has the hands to be effective as a receiver out of the backfield.
He has the physical traits to be able to contribute early in his career. Defenders find themselves getting worn down by Alston as they get deep into the second half and they need more than one tackler to to bring him down once it gets ahead of steam. Keep an eye on Alston as he gets on campus and really takes advantage of the strength and conditioning program.
WHY IT'S BIG FOR AUBURN
Look for Alston to add to what should be a big time running game for Auburn under Brian Harsin's new coaching staff. Auburn's offense under Harsin hasn't been completely revealed just yet but the expectation is that Alston brings a skill set to the table that should thrive under the direction of Harsin and running backs coach Carnell "Cadillac" Williams.
With Alston's commitment, he is now the highest-ranked player in Auburn's 2022 class and just its seventh member. The Auburn coaches are sure hoping this will jumpstart some momentum on the recruiting trail.