Commitment Breakdown: Rivals250 ATH Maurice Hampton sticks with LSU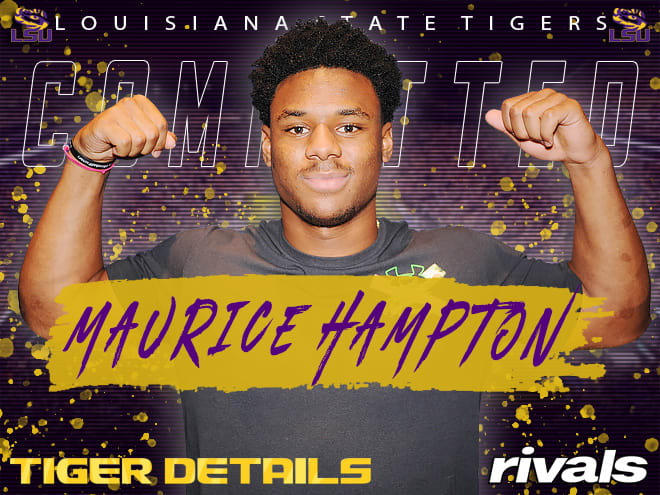 THE SITUATION
LSU got some very good news on Wednesday morning as longtime commit Maurice Hampton finally made his commitment to the Tigers officially, signing with the school after months of flirtations with other programs. Hampton had been committed to the school for more than two years, but that didn't mean the Tigers weren't sweating things out after Hampton took an official visit to Auburn and became a major priority for the other Tigers over the past few months.
WHY IT'S BIG FOR LSU
Hanging onto Hampton was a major priority and the first part of the recruiting battle for Hampton. An elite baseball player as well, it's very likely that Hampton will be selected high in the MLB draft, so now that he's signed, the LSU football and baseball coaches will have to work on getting him to Baton Rouge instead of potentially signing a lucrative professional deal. Hampton, who stars on offense and defense at the high school level while not really focusing on the sport full-time during the offseason, could blossom into a star in college in the right environment. Keeping him away from another SEC West foe is big, as is nabbing him out of Tennessee and continuing the school's recent success recruiting in the Volunteer State.
WHY IT HURTS FOR AUBURN, TENNESSEE
Auburn really thought it had a chance with Hampton and made a major push after he didn't sign early, with the thought that he might flip to the other Tigers. Unfortunately, the time investment didn't pay off, and missing on Hampton hurts because Auburn was really high on his skillset and potential. Tennessee has been out of the picture for a while with Hampton, but early on upon Jeremy Pruitt's arrivals in Tennessee, Hampton was viewed as a major priority. Watching a top in-state talent sign with LSU is all to familiar for Volunteers fans, who saw five-stars Jacob Phillips and Jacoby Stevens head south for Baton Rouge in 2017.